With spring drawing to a close and summer fast approaching, the garden in May is really getting into its stride with an eye-catching mix of structure, colour and texture. The early spring flowers are starting to fade, but the lush green growth and a new colour palette of purples and yellows are beginning to take their place.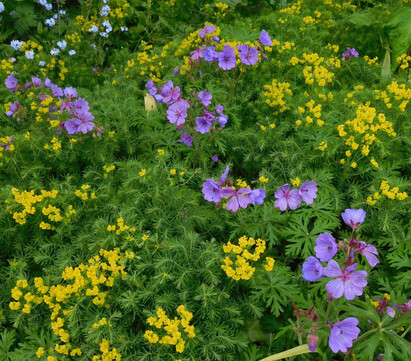 Geranium malviflorum and Euphorbia cyparissias:
An attractive, intermingling combination, forming an eye-catching ground cover approximately 30cm in height. The large, rich-blue, red-veined flowers of Geranium malviflorum (Mallow-flowered cranesbill) contrast beautifully with the yellow-green flowering bracts of the euphorbia. Both plants are pictured here growing in a well-drained soil in full sun, however Geranium malviflorum is also happy in part-shade and a richer soil. This geranium disappears underground over summer, leaving the Euphorbia to carry on flowering until July.
Euphorbia cyparissias (Cypress spurge) also goes well with Artemisia, Eragrostis and Nepeta. (Euphorbia cyparissias has an indefinite spread, so either plant in an area where theres's plenty of room to carpet the ground, or plant in a pot to keep it restricted)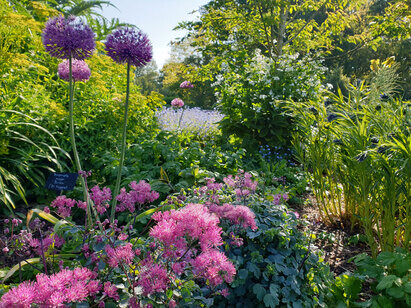 Allium 'Purple Rain', Thalictrum aquilegiifolium 'Thundercloud', Euphorbia margalidiana and Lunaria:
A beautiful combination showing the typical colour palette of May; lush green foliage, purple flowers and acid-yellow euphorbias. This collection of plants can be found in the Reservoir Garden where they receive full sun and a fertile soil (the allium and lunaria are also tolerant of a light, free-draining soil).
Allium 'Purple Rain' is a bulbous perennial producing dense umbels of star-shaped flowers. The alliums will be the first from this combination to finish flowering in June, however their seedheads will remain for most of the growing season adding further interest to the planting.
Euphorbia margalidiana is a long-flowering spurge, blooming from April through to autumn. This robust, evergreen perennial reaches approximately 1.2m in height with a sprawling habit. The attractive glaucous, fan-shaped leaves of Thalictrum aquilegiifolium 'Thundercloud' form a delicate mound under airy, deep-lilac, fluffy flowers.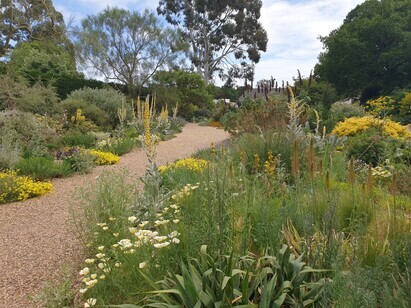 Eschscholzia californica Pale Cream Form, Helianthemum 'Wisley Primrose', Verbascum bombyciferum and Ferula communis:
A delicate combination of colours and textures in the May Gravel Garden. In front, the annual, cup-shaped, pale-cream flowers of Eschscholzia californica (Californian Poppy)drift delicately through the planting.
The statuesque, yellow spires of Verbascum bombyciferum rise from huge, grey-white, felted rosettes, drawing the eye through the garden. This verbascum is biennial, meaning it will produce an impressive rosette in its first year, eventually flowering in its second attracting many bees and other pollinators. After flowering has finished, the exhausted plant will produce a mass of seeds which will be released before the plant eventually dies, allowing the cycle to start over again.
Helianthemum 'Wisley Primrose' (Rock Rose) are dotted along the edge of the path, forming soft, primrose-yellow mounds. Once flowering has finished in July, spent flowers should be trimmed off to keep the plant tidy, but also to encourage a possible second flush of flowers.
To the far-right, yellow umbellifer flowers of Ferula communis (Giant Fennel) rise from a mass of finely cut, dark-green foliage, eventually reaching heights of 3m. The planting in the Gravel Garden thrives in poor, free-draining soil and full sun.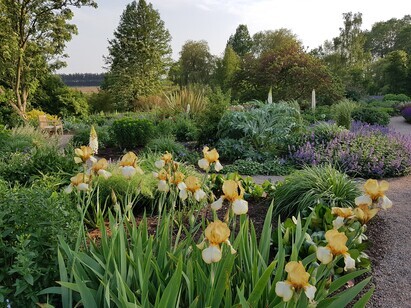 Iris 'Benton Susan', Salvia verticillata 'Purple Rain', Cynara cardunculus and Eremurus himalaicus:
In the fore, the golden-yellow flowers of Iris 'Benton Susan' make a statement on the corner of a bed in the Reservoir Garden. We have a wide variety of Benton Irises planted throughout the sunny areas of the gardens. These striking forms of bearded iris were bred by Beth's late friend, Sir Cedric Morris at his home Benton End in Suffolk. When the blooms have finished and the spent flowers cut down, the sword-like foliage continues to add interest for the rest of the growing season.
To the right, Salvia verticillata 'Purple Rain' spills over the edge of the path, creating a low mound of bright purple flowers held over mid-green, course foliage. A good cut back once flowering has finished will hopefully produce a second flush of flowers. Behind, the bold, architectural, silvery-green foliage of Cynara cardunculus (Cardoon) makes a bold feature in the middle of the planting. Soon the plant will produce giant, luminous-blue, thistle-like flowers that are rich in pollen and nectar, attracting bees and other pollinators.
Dotted throughout the planting are the tall, white spires of Eremurus himalaicus (Foxtail Lily) adding height to the beds. These towering plants flower from late May through to July and continue to add interest with their seedheads until later in the year.
Leanne Crozier- Gardener