Directors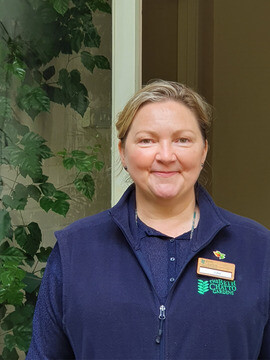 Julia Boulton
Chairman
Julia joined the business as an employee in October 2012. Julia is Beth's eldest grandchild and says she has never known a time without the Gardens.
'Although we lived in the Midlands, where my father was based, we would regularly visit my grandparents, my brother and I would have great fun running wild in the garden whilst the grown ups talked about plants etc…
During my adolescence we would spend the whole of our summer holidays at the Gardens and I remember both Dave and Gerard from that time. It's amazing for me to realise that at that time Beth was in the middle of her Chelsea fame – she was so generous with her time for us and I hold those memories dear.
As an adult Beth was a great support to me, helping me through university, encouraging ambition and independence – she was an inspiration and I'm lucky to be her granddaughter.
As Beth grew increasingly frail and worried about the future of the Gardens, I knew that I had to offer my help. Thankfully I had the support of my husband and young children and we uprooted from the Midlands to Essex in 2013.
My background is in general management at Donington Park (Race Track) – very different to horticulture, but the practical aspects of running a business are transferable and luckily Beth already had a brilliant plant and garden team. As well as business acumen I bring a deep love for the Gardens, a tie to it's history and ambition for the future.
I'm so grateful to have spent six years working with Beth at the gardens, learning more about her as a business woman and horticulturist. She could see how successful her gardens continued to be and knew it was in safe hands.'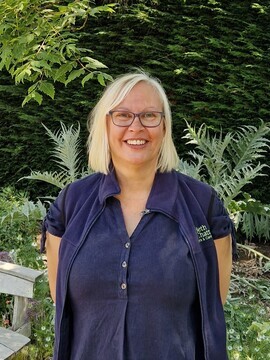 Jo Waters
Managing Director
Jo joined the business in 2022 having worked as director of supply chain management for Clarins. While there, she ran international logistics operations and built the infrastructure to support a £120 million business by focusing on the careful integration of people, processes, and technology. With twenty years experience in people management and leadership development, Jo leads the team and is chief guardian of its values and culture
Business Services Team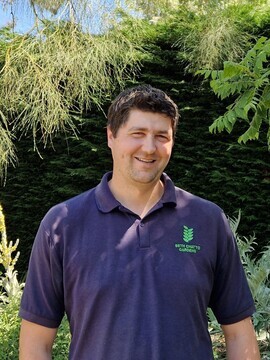 Ben
Business & Facilities Manager
Ben came to the Beth Chatto Gardens as a propagation assistant in 2013. His experience in IT allowed him to assist with the development of propagation and stock systems and moved into the role of IT manager shortly after. In this role he has been able to work extensively with each area of the business installing new technologies to advance the work of Beth Chatto Gardens while maintaining the core values of Beth's legacy.
As well as providing technical support for events and symposiums Ben has worked on many improvements in house. Through a careful analysis of the needs of the business Ben has prototyped several novel hardware solutions including systems to measure and report growing conditions, propagation bench controllers, early warning alerts for key infrastructures and Manager aids.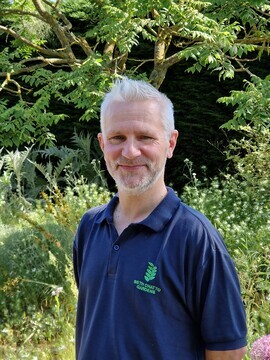 Steve
Head of Horticulture
Steve is our Head of Horticulture working to maintain the link between the gardens and the nursery.
A love of plants and working outdoors was discovered through volunteering for B.T.C.V. Norwich. Planting trees, helping restore heathland and building boardwalks.
After that he worked for the National Trust, at Acorn Bank in Cumbria, Knightshayes Court in Mid Devon and Coleton Fishacre in South Devon. A year in Germany on the edge of the Black Forest culminated in an opportunity to come home to East Anglia and join the team at Beth Chatto's.
Steve has worked on improving our website, adding plant photos and more horticultural detail to the existing plants for sale and researching new plants to add to our range.
He has previously managed the mail order department, set up a volunteering programme and worked in the garden.
Favourite plants would include Teucrium, Tulbaghia, Ophiopogon, Boehmeria, Indigofera, Hedychium, Epimedium and many more!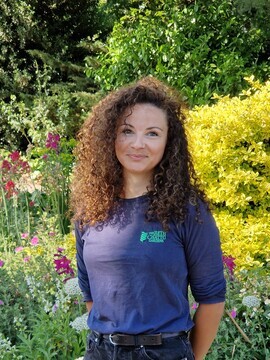 Leanne
Media & Communications Manager
Leanne first came to the Beth Chatto Gardens in 2011 to complete her RHS Level 2 in Horticulture qualification to help in her work as a self-employed Gardener. Leanne joined the Beth Chatto Team in 2017 and spent the first year working for the Nursery Sales Team. In her second year, she became a Production Assistant for the Production Team, helping to propagate plants by divisions from our stockbeds. In 2019, Leanne joined our Gardens Team helping to maintain and develop all areas of the garden. During this time, Leanne began working alongside the Marketing Team, assisting with our Instagram account and photography. At the beginning of 2022, Leanne left the Garden Team to concentrate on our social media platforms and now works as Media & Communications Manager. Her role also involves taking photos, recording videos for our YouTube channel and writing and coordinating blogs for our website.
Garden Team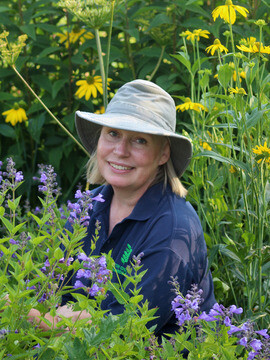 Åsa Gregers-Warg
Head Gardener
Åsa is the Head Gardener at the Beth Chatto Gardens where she has worked since 2001. As Head Gardener, Åsa is responsible for the day-to-day upkeep and development of the gardens. Leading a small team of gardeners and trainees, she also works closely with the nursery's Plant Production team, as many of the plants grown in the garden are used as propagation material. Åsa's career in horticulture started as an intern at Bergianska Trädgården (Hortus Bergianus, Stockholm) Sweden. Having completed her horticultural and landscape construction studies at Säbyholms Naturbruksgymnasium, she went on to work at Brunnsvikens Trädgård, a nursery and garden centre on the outskirts of Stockholm. Keen to further expand her plant knowledge, Åsa wrote a letter to Beth whose style and approach to gardening she much admired, asking if there were any vacancies. In 2001 she took up residence in the caravan next to Beth's vegetable patch and spent the summer working on the nursery before joining the Garden Team full time. Over the next decade Åsa took on more and more responsibilities as Beth gradually stepped back from the daily running of the gardens. Having worked closely with Beth over the years, Åsa has gained an invaluable insight and understanding of the garden's underlying philosophy and planting principles. Together with her team, she continues to care for the gardens and pass on her knowledge ensuring that Beth's legacy is being carried forward.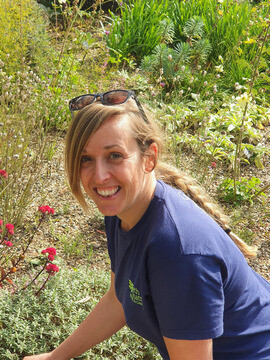 Cathy
Gardener
Cathy's passion as a gardener bloomed as a young teenager helping her grandparents each summer at their garden in Hastings. After A-levels, Cathy attended the University of Birmingham where she gained a 2.1 degree in Physiotherapy. Cathy spent eight years working for the NHS across the West Midlands and Wales. Gardening was always something that Cathy wanted to pursue and in 2019 she decided to start a career in horticulture.
Cathy first came to the Beth Chatto Gardens in 2019 to study for the RHS level 2 qualification as a first step in her horticultural career. Whilst completing her studies, Cathy applied to the WRAGS scheme (Work and Retrain as a Gardener Scheme) and was offered a trainee placement working in the Gardens to gain practical experience in all aspects of horticulture. Cathy then joined the garden team in 2021 after completing her study. As part of the garden team Cathy is responsible for the ongoing maintenance and development of the gardens. This involves a wide variety of tasks from weeding and pruning, to seed collecting and donning waders to get in the ponds.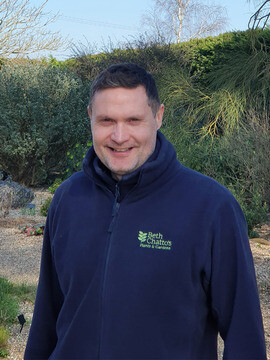 Scott
Gardener
After working in the print trade for 15 years, a growing passion for gardening led Scott to retrain at Writtle University College gaining a practical qualification in horticulture. He worked in several positions such as garden nurseries, as part of a maintenance team and as an estate gardener before setting up his own garden design and maintenance business. Scott joined the Garden Team at Beth Chatto's part time in April 2021 before starting full time in October 2021. Scott holds a BTEC Level 3 Diploma in Horticulture.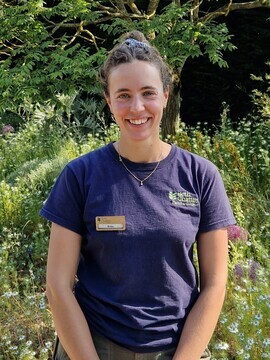 Malin
Gardener
Malin first came to Beth Chatto's for a two month placement in the winter of 2022. She joined the team full time in Janurary 2023 after moving over to the UK from Sweden, where she played a leading role for garden designer Marika Delin. Malin has a degree in garden and conservation at the University of Gothenburg.
Propagation Team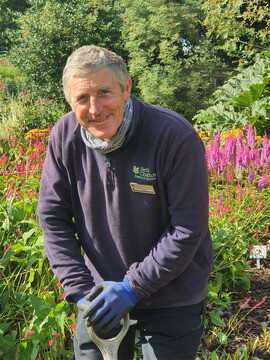 Marc
Growing Manager
Marc originally came to the Gardens when he started studying for his RHS Level 2 in 2012 and is currently completing his Level 3. Initially working in the pack house on mail orders, then grounds before becoming a production team leader responsible for raising plants in the stock beds. One of his favourite areas of the gardens is the Shady Walk because of it's scented plants and also you see the house in context with it's surroundings. Marc has worked as a reprographic designer and assurance assessor for vehicle damage amongst many other jobs. He also ran a gardening firm, maintaining lawns, hedging and trees. He remembers how Beth would tell him off about his pronunciation of bergenia. Marc is a beekeeper looking after the hives on site. He has fond memories of talking to Beth about beekeeping; she always had the first of the hives honey each year.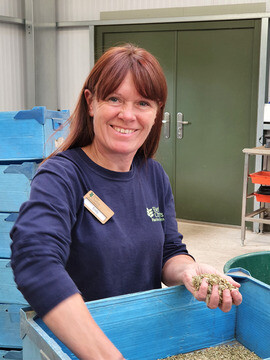 Emily Allard
Show Manager & Propagation Expert
Emily is the Show Manager & Propagation Expert at The Beth Chatto Gardens where she has worked for over thirty years. Emily started working during her school holidays, later becoming a Saturday girl. She started working full time in 1991 and spent time working alongside Beth in many areas of the business. As Beth shared her passion for flower arranging and propagating plants, Emily soon found her own love for growing plants. In 2014 she became Production Manager, working very closely with the nursery and garden managers, who all rely on each other, e.g. plant material from the garden is being used for supplying plants to the nursery. Emily feels very lucky having grown up at the Gardens working with Beth, who generously shared her wealth of horticultural knowledge and passion for plants. Emily also spent time helping Beth in her much-loved private vegetable garden. Having spent many years practicing under Beth's watchful eye Emily, with her artistic flair, learned to produce beautiful floral arrangements for many occasions. In addition to her work in Plant Production Emily also helps with plant fairs and other external events. Emily didn't want any formal college training to study as she felt she had the best teachers close to her. Emily keeps Beth's ethos and legacy at the forefront by teaching others in the business, passing on her knowledge and caring for the future of the Beth Chatto Gardens.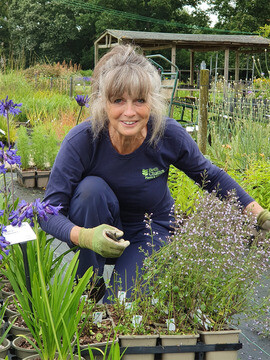 Tina
Plant Stock Control mentor
Tina joined the company in 2004 and has worked in all areas of the nursery from looking after and maintaining the plants, to helping customers, and packing plants for our mail order service. Now, Tina is responsible for ensuring that all of the plants in the nursery are well-cared for and are of a high standard. Her knowledge and experience is invaluable to the team.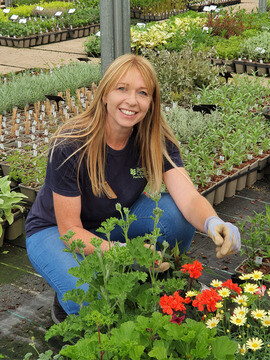 Melanie
Production Assistant
Mel joined the team in 2016, initially tasked with doing a lot of potting of plants for the nursery. Over the past few years, Mel has learnt all aspects of the nursery and is now responsible for looking after the plants once they have been potted and then deciding when they are rooted and ready to be released for sale.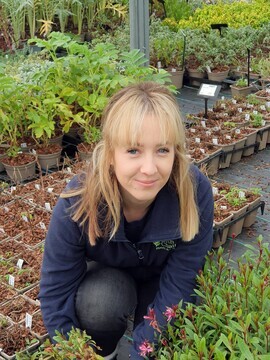 Annie
Production supervisor
Annie joined the team in April 2022 working within the nursery and assisting with plant care and stock control. Previously working with plants as a florist, Annie is enjoying learning a whole new side of horticulture with some familiar and other not so familiar plants.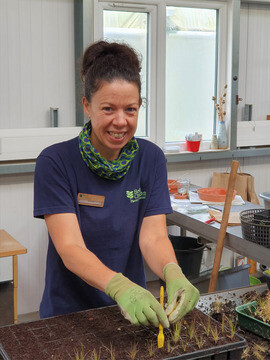 Sarah
PRODUCTION ASSISTANT
Sarah joined the team in 2017 and has spent six years working within our online sales team picking and packing plant orders. Sarah has also worked alongside the propagation team assisting with pricking out seedlings and taking cuttings, amongst other plant propagation tasks.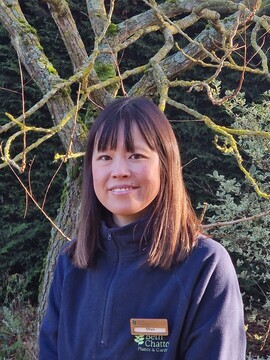 Miya
Production assistant
Miya joined the company in April 2023. She worked as a gardener for a local garden maintenance company for three years and as a plant area assistant at a garden centre for two years afterwards. With her enthusiasm to find an expertise in horticulture, she gained RHS level 3 qualification at Writtle in 2023. She feels incredibly fortunate to be working on Beth's stock beds and is very excited to learn all about propagation. At home, she loves growing vegetables and cut flowers at her allotment and collecting houseplants.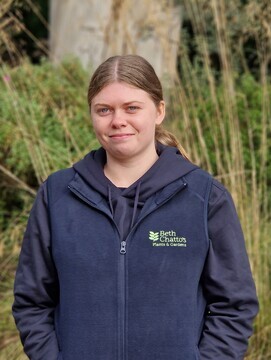 Megan
Production Assistant
Megan first came to the Beth Chatto Gardens in 2017 as a volunteer where she helped out within the garden as well as propagation before going on to complete a BSc (Hons) degree in Horticulture in 2018. In March 2023, Megan joined the propagation team tasked with taking cuttings as well as other propagation based jobs. Since joining, Megan has integrated her love of research into working with new methods of growing including peat free and working alongside the University of Essex with their watering trials. Outside of work Megan is a carnivorous plant specialist and has won several awards surrounding her university research and work. She enjoys spreading awareness on these unusual plants via her social media as well as blogs, videos and talks. Megan is also a member of the Tender Plant Comittee with the RHS where she will get to be involved with RHS based events.
Retail & Customer Experience Team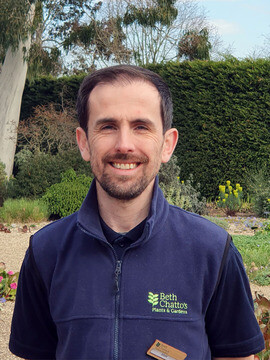 Matt
Retail & Events Manager
Matt joined the Beth Chatto Customer Experience team in May 2021 working mainly in the Tearoom. He now manages the whole of the retail team; around 20 people in the Tearoom, Shop and Visitor Information Centre. Matt loves gardening, nature, photography and walking so found Beth Chatto's Plants and Gardens the perfect place to incorporate his customer service skills with the things he loves doing most in life. 'I love to talk to customers about the Gardens and where they've travelled from to visit for the day. When the sun is shining there is no better place to be than at Beth Chattos'. He loves all areas of the garden and often takes time to walk around it when time allows.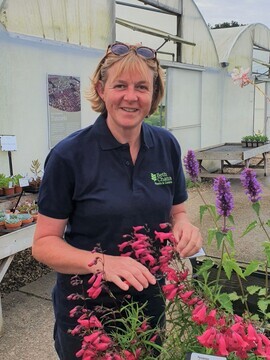 Kirsten
Plants Senior Assistant
Kirsten joined the company in February 2021 to work in our nursery sales team and has brought with her well over 30 years' experience of working in a horticultural retail environment. Kirsten's knowledge and hard work has meant that she's been an excellent addition to the team.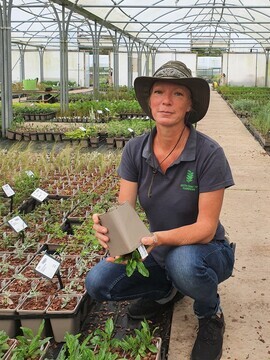 Hen
Plants Senior Assistant
Hen joined the company in 2002 and has worked in all areas of the nursery looking after and caring for the plants. After working predominantly within our nursery sales area, Hen now enjoys looking after the plants behind-the-scenes and picking the best plants to be sent out for the mail order service.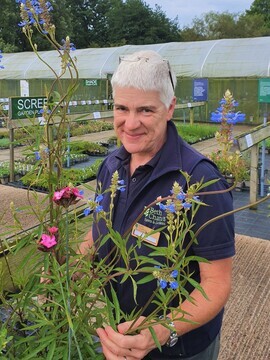 Jos
PLANTS TEAM ADMIN
Jos joined the team in 2018 working in our nursery sales area, looking after the plants and helping and advising customers. In 2021, Jos was given the responsibility of dealing with the plants team customer service, answering emails and phone calls, and assisting customers when in need of advice or assistance with placing orders.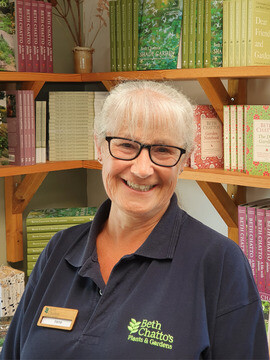 Irene
Assistant Retail Manager
Irene joined the Beth Chatto Gardens in March 2014 initially working in the tearoom for one year and is now Assistant Retail Manager in the Gardeners' shop. Irene loves the customers as they are completely different to other retail outlets she has worked in. 'At Beth Chatto's, customers are on a special day out and not just everyday shoppers. It is nice to be a part of their special day. She loves the Water Garden in winter when you can see from one end almost to the other.'
Prior to working at the Gardens, Irene worked for twenty-four years at a general store called C.R Supplies in Colchester but has been in retail all her life. She has many fond memories of Beth but a couple of weeks before Beth died she remembers Beth was out in the garden talking to school children who were on one of the first BCET (Beth Chatto Education Trust) large group visits. Beth was forever generous with her knowledge.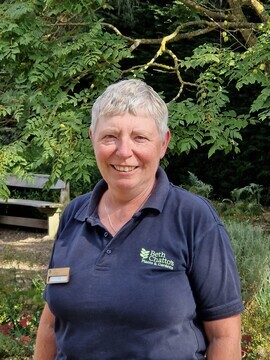 Gill
Customer Relations
Gill joined Beth Chatto's in 2020 and looks after our 'Friends of Beth Chatto' as well as dealing with all types of customer queries- answering emails and phone calls, and assisting customers with placing orders. She can even be found in the Visitor Information Centre and shop helping out at busy times.
Gill admits that her plant knowledge was very limited before coming here but it is growing all the time. She has always enjoyed the outdoors, be it walking her dogs or riding her horse.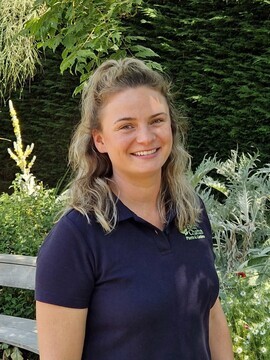 Mandy
Buyer
Mandy joined the Beth Chatto retail team in 2021 as Buyer for the Gardener's shop. With over 15 years of retail buying experience, she has helped develop and create Beth Chatto's own branded product ranges including jigsaw puzzles, hand soaps and greetings cards, sourcing UK based suppliers that use sustainable materials. Mandy works alongside the customer service team and supports them in all administrative areas such as the Tearoom, Shop and Visitor Information Centre.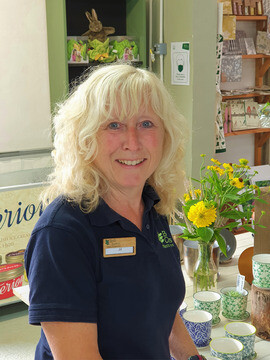 Jill
Retail Assistant - Gardeners Shop
Jill first started working at the Beth Chatto Gardens in 2012 working on the nursery. She now works as part of the retail team in the Gardener's shop. Jill admits she didn't know much about plants then or much about the Beth Chatto Gardens. Previously Jill worked in Sudbury at Gosling's Art Shop and Framers.. Jill has learned so much about plants and what Beth Chatto stands for; Right Plant Right Place and much more. 'Beth treated all her staff as family, she really cared. What a wonderful lady. I'm so pleased I got to meet Beth. An Inspiration.'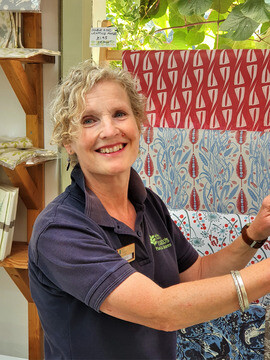 Beckie
Retail Assistant - Gardeners Shop
Beckie has been working for Beth Chatto Gardens for just over three years being employed to work in the gardeners' shop, previously having worked for many years for Laura Ashley in home furnishings before taking voluntary redundancy.
When covid first began she helped run the Visitors Centre welcoming customers and as we had no tearoom, also provided teas and coffees for the thirsty visitors. For a short time she helped to pack plants for home deliveries, a fast-paced role that she found enjoyable, amazed to think our plants are being sent all around the country. Now back in the shop she takes great pleasure in dressing, serving and talking to customers about the gardens.
"I'm constantly in awe of the knowledge, talents and artistry of the colleagues I works with. I truly think gardening is the best hobby, so being in such beautiful surroundings is constantly inspiring."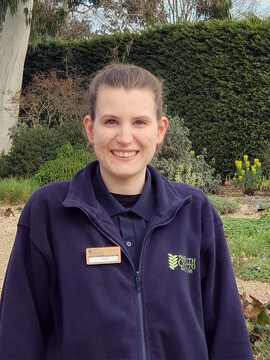 Amy
Retail Assistant - Chatto's Tearoom
Amy started working at Beth Chatto's in the tearoom in 2021, which she loves. She loves meeting new people and learning new things every day. Her favourite part of the garden is the Water Garden which she finds lovely and peaceful.
Estate Team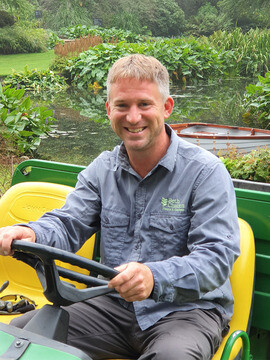 Ben
Estate Manager
Ben is senior Groundsman at The Beth Chatto Gardens, but started at the Gardens on work experience in 1998. He thoroughly enjoys the variety of work he carries out through the various seasons, including tree, tractor and loader work. One of Ben's favourite area of the gardens are the stunning old oak trees around the boundaries. Prior to working at The Gardens, Ben worked for a Landscaping company and on various building sites installing fences and gates, which made him appreciate the gardens. Ben very much respected Beth and really felt he knew the real Beth. He used to take her out in the car and loved talking music with her although Beth was more a Mahler admirer and Ben's more Beethoven!
Beth Chatto Education Trust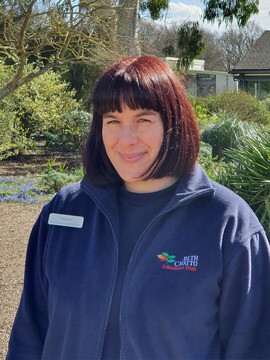 Karalyn
Education Trust Manager
Karalyn has worked here at The Beth Chatto Gardens since 2014 when she came on board to co-ordinate the concept of Beth Chatto Education Trust of which she is now the manager. Karalyn is the primary lead for the children's education programme at The Trust and continues to lead the majority of the garden activity events and school visits for children. She is RHS trained and a trained Forest School leader. In addition, Karalyn manages the adult courses, special events and community initiatives at The Trust. Karalyn is passionate about the ecology of the environment and has had a love of the natural world from an early age. A graduate in Marine and Freshwater Biology she has never lost her affection for pond dipping! Karalyn is a firm wildlife enthusiast and combines this with her interest in plants and gardening in her activities at Beth Chatto Education Trust. Karalyn began working with B.T.C.V doing practical outdoor management work, then worked with London Wildlife Trust as a Summer Warden where she discovered her natural talent for working with children. She then worked for many years with Essex Wildlife Trust as an Education Officer where she enjoyed teaching many hundreds of children. She still enjoys teaching many more at the Beth Chatto Education Trust!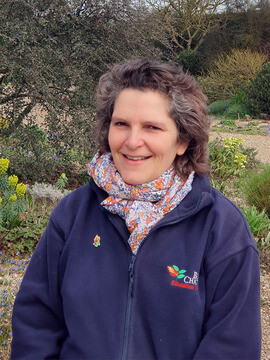 Lucy
Creative Horticulturist
REDMAN Lucy been a lecturer for the Beth Chatto Gardens since 2018 establishing the Spring and Autumn Practical Gardening Courses as well as Design Your own Garden Course.
Lucy worked at the RHS Gardens, Wisely and designed/planted gardens for many years in London and East Anglia. She also assisted Xa Tollemache with the creation of 3 gardens at the Chelsea Flower Show.
Beth Chatto visited the Lucy Redman Garden, Rushbrooke, Bury St Edmunds, Suffolk in 2008 which was full of unusual plants blending with arts and crafts. She opened it regularly privately and for the NGS before moving to Manningtree in 2020.
Lucy also assists the Education Trust with the design of community spaces and development projects creating outdoor spaces for children and adults as well as nature to thrive.
Being part of the Beth Chatto family is an honour and having a view of the famous Gravel Garden from my drawing board whilst listening to the birds is fantastic. I feel very lucky to have a job which involves inspiring others to deepen their knowledge of plants whilst linking planty people together, forming lasting friendships, is a real pleasure.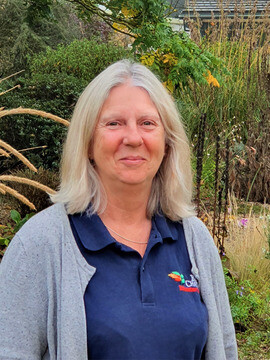 Joy
Education Trust Co-ordinator
Joy has worked at Beth Chatto for the past three years. Working here has allowed her to bring together life-long interests in gardening, allotments, education and the natural environment. Working as Co-ordinator for the Trust she has been able to bring her research, fundraising and community development skills to enhance the subsidised activities that the Trust can offer to schools and community groups. She has recently passed her RHS qualifications and has expanded into a teaching role with groups of young adults. Joy's aspiration is to widen access to the Trusts education programme to include as many diverse groups as possible, that may need additional support to enjoy and benefit from the wonderful environment we have here at Beth Chattos.
Apprentices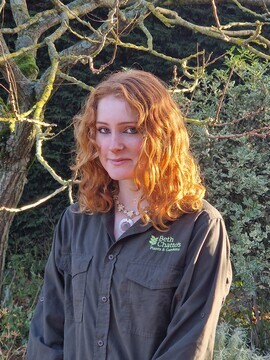 Hollie
apprentice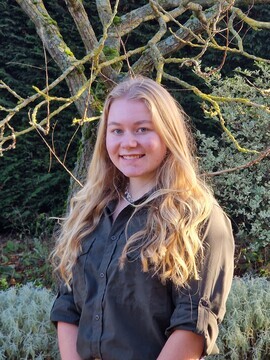 Hannah
apprentice
Hannah joined Beth Chatto's in September 2023 as our second apprentice. She does a 50/50 split between propagation and gardening to explore everything Beth Chatto's has to offer within horticulture. Hannah's interest in plants was sparked when she started to use different types of foliage and flowers in her GCSE artwork. As Hannah searched in her own garden and in other public gardens for plants, she began to notice how many different shapes and colours plants produce and how unique each plant is. This interest lead to her working at a garden centre for her work experience which fueled her interest in plants even more.