Nepeta (Catmint)
This much-loved perennial is easy to grow, loved by pollinators and a very attractive addition to the garden. In early summer, these reliable plants produce an abundance of mostly lavender-blue flowers, held above grey-green foliage.
After flowering has finished, plants can be cut back down to the ground to neaten them up and to encourage a second flush of foliage and flowers.
They grow happiest in light, well-drained soil in a full sun position. We grow our range of nepeta either in the poor, free-draining soil of the gravel garden or the improved clay of the reservoir garden where the soil is slightly richer but still free-draining.
We have noticed that all the nepetas grown here are hugely popular with pollinators, so it has earned a place in our Bees, Bugs and Butterflies collection.
Our range of nepetas cover various growing habits, flower and foliage, colour and size. Here are just a few of our extensive range:
Nepeta 'Hill Grounds'- mounds of aromatic, grey-green foliage is topped with spikes of intense violet-blue flowers through summer. Plants reach 50cm in height and a spread of 40cm.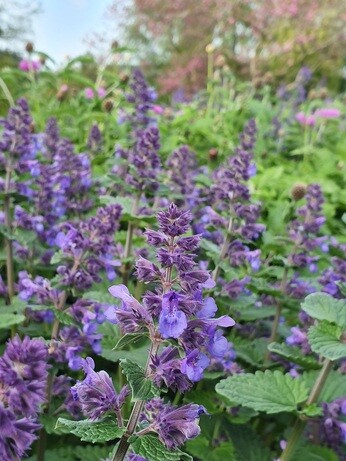 Nepeta 'Chettle Blue'- is located at the entrance to the gravel garden where its intense blue flowers are admired by our visitors. A slightly taller, more upright variety, reaching 60cm in height and a 40cm spread.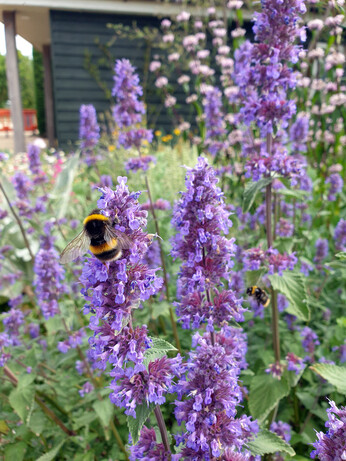 Nepeta grandiflora 'Dawn to Dusk'- forms a wide bushy plant set with matt green, scented leaves. Many branching stems set with whorls of pinky-brown, tube-shaped calyces, paler pink lipped flowers. A good option for a more delicate colour scheme. Reaches 90cm in height and 30cm wide.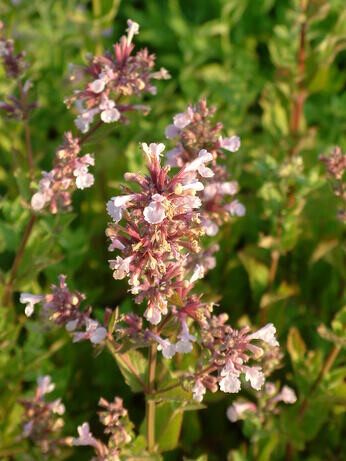 Nepeta nuda 'Romany Dusk'-tall, upright dark stems carry pale lilac flowers above wrinkled, grey-green foliage. A very attractive perennial growing to 90cm in height with a spread of 40cm.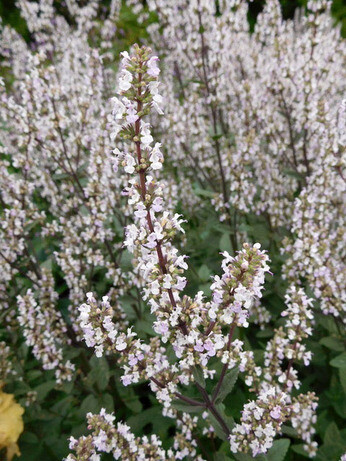 For our full range of nepetas, CLICK HERE.