Right: the frosted seed heads of agastache with an echinacea flowerhead
When the garden is stripped back in winter, with very little foliage and flowers, skeletal plant structures and seedheads provide welcome interest.
As herbaceous plants run out of steam in autumn and retreat back to the crown (base of the plant) to wait out the winter, the skeletal remains of plants that are left behind can be equally as beautiful, if not more so, than when the plant is in flower.
Some plants however don't die gracefully and are best cut down to the ground as soon as they start to die back.
In the Gardens, we leave as much of the structure standing over winter, only cutting down spent stems when they are no longer standing upright, or when they start to disintegrate making a mess of the garden. We are rewarded when we spot small birds feeding on the seed heads, or when a frost coats the decaying stems, giving them a new lease of life, if only for a few hours.
The spent architectural stems of these plants stand up well to the winter weather:
Agastache 'Blue Boa'- with bright green, aniseed scented leaves and spikes of purple-blue flowers from early summer through to autumn. Performs well in a sheltered spot, offering a rich soil in full sun.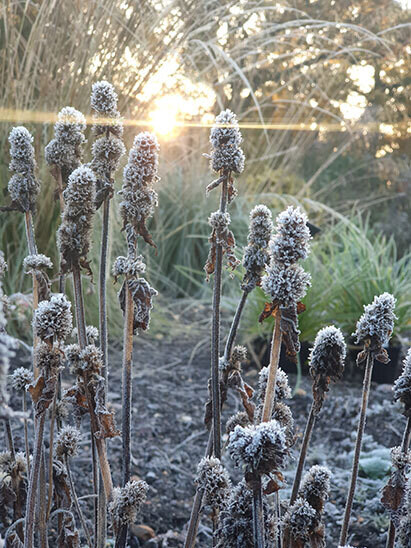 Betonica officinalis 'Rosea Superba' (syn. Stachys officinalis) (above)- basal leaves make a dense mat of bright green crinkled leaves, above which stand many strong stems topped heads of small rose-pink flowers in midsummer. A reliable and long-lived perennial for a retentive soil in full sun/part shade.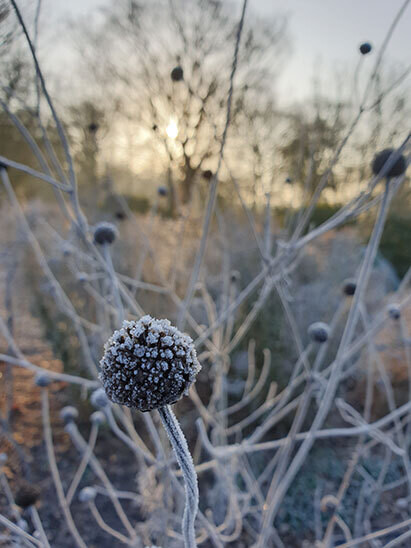 Cephalaria gigantea - (above) from a basal clump of large divided leaves, rise strong branched stems that carry light yellow, scabious flowers, usually covered in bees and butterflies. Best grown in a rich soil in full sun/part shade.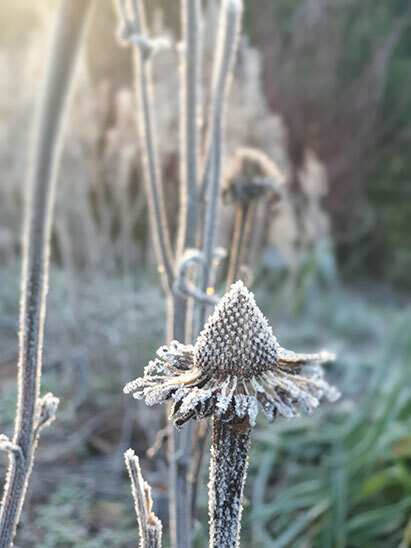 Echinacea purpurea 'Rubinstern'- (above) the deep purple-red flowers are irresistible to bees and butterflies, flowering from July through to September. A reliable variety that is best grown in a rich soil in full sun.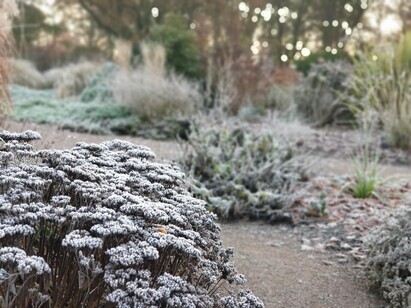 Hylotelephium 'Herbstfreude' (syn. H. 'Autumn Joy') - (above) we have many varieties of hylotelephium (sedum) planted around the garden, but this is an old favourite. As with most tall hylotelephium cultivars it benefits from a Chelsea chop in spring to remain compact and sturdy. When in bloom, the rich pink starry flowers, which deepens in colour as they mature, are covered in bees. The dried seedheads hold up well against the weather and remain attractive throughout the winter months.
Phlomis tuberosa 'Amazone'- a fantastic vertical plant for a sunny garden, with whorls of soft-lilac tubular flowers.
Phlomis russeliana - from large weed-smothering clumps of heart shaped leaves rise stiff stems carrying whorls of rich yellow flowers loved by bees. Tolerant of most soil types but preferring a sunny position.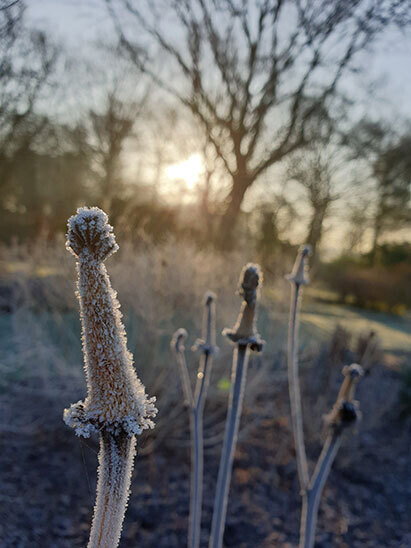 Rudbeckia maxima - (above) large wax-coated, blue-grey leaves, form a base for branching stems which hold large, elegant cone flowers with yellow petals surrounding a black centre. Best grown in a rich fertile soil and full sun.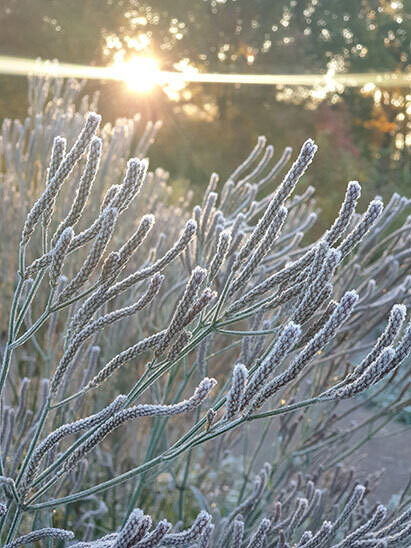 Verbena macdougalii 'Lavender Spires'- (above) a tall erect perennial with branching spikes of deep lavender flowers from midsummer to autumn. It is happiest when grown in a free-draining soil, in full sun and out of strong winds.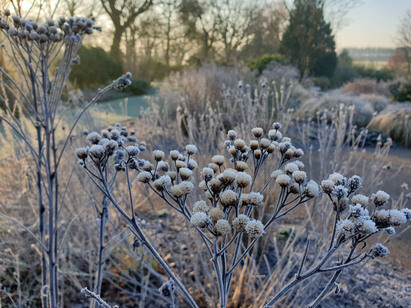 Vernonia arkansana 'Mammuth'- (above) a valuable late flowering perennial with purple-pink flowers that are held on top of head-high, upright stems. Grown in a rich, fertile soil in full sun/part shade.
Grasses: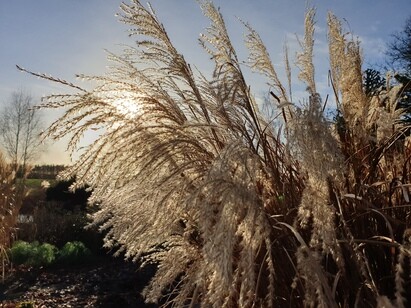 (Above) Miscanthus in the Reservoir Garden
Calamagrostis x acutiflora 'Karl Foerster'- a fantastic vertical element standing firm through autumn and winter. Forming a slender column, narrow flower panicles are held bolt-upright on needle-like stems. Growing best in a well-drained soil in full sun.
Eragrostis trichoides - an airy, delicate grass, with arching heads of shiny, bright green, red tinted flowers from midsummer to early autumn. Looks fantastic when touched by frost. Preferring a light, well-drained soil in full sun.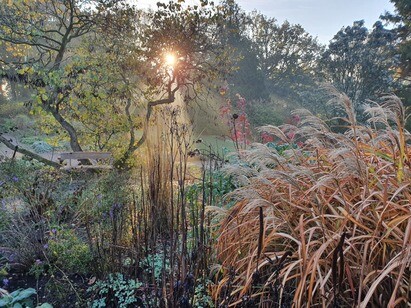 Miscanthus varieties (above) - with imposing columns of arching ribbon-like leaves, many varieties also have excellent autumn foliage colour, varying from orange to pink. Large feathery plumes add an element of drama to the garden, catching the wind and the low winter sun. Happiest in a rich soil in full sun.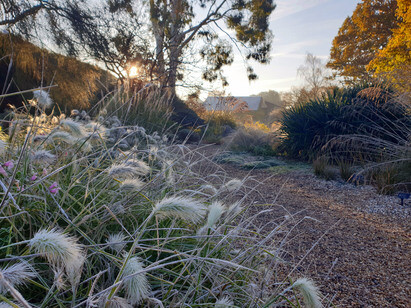 Pennisetum villosum -(above) a fine grass with a constant display of fluffy, cloud-like flower heads that make our visitors stop in their tracks. Hardy in a sheltered position, with a well-drained soil in full sun.
Stipa pseudoichu - upright green leaves, with graceful, arching silvery flowers heads in late summer. A dramatic grass that really shines when backlit by the low autumn/winter sun. It prefers a light, well-drained soil in full sun.
Leanne Crozier- Gardener