Salvia nemorosa – (woodland sage, Balkan clary)
The species name- nemorosa ('of woods') refers to the natural habitat of this salvia, typically found growing in groves and woods across central Europe and Western Asia.
A favourite of many for its unrivalled, intense flowers adding splashes of colour in the garden. Popular cultivars grown and sold here include Salvia nemorosa 'Caradonna', S. 'Ostfriesland', S. 'Amethyst' and S. 'Wesuwe', each producing summer-long displays of strong, violet-blue flower spikes.
Salvia nemorosa cultivars are tolerant of most soil conditions, however, they don't like sitting in wet soil over winter, so ensure the soil is free draining to avoid rot. A full sun position (receiving at least 6 hours of sunshine in midsummer) is ideal.
Contrasting planting companions include Origanum vulgare 'Thumble's Variety' with its fresh yellow-green leaves, Knautia macedonica with pin cushion, crimson flowers matching the salvias intense colour and Echinacea purpurea 'Alba' with its contrasting colour and flower shape.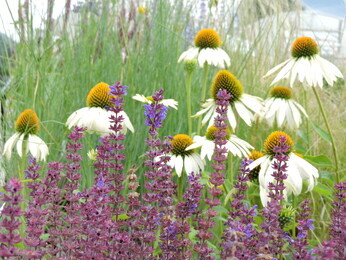 Salvia with
Echinacea purpurea 'Alba'
Flowers are highly attractive to bees and butterflies and the long flowering period provides a supply of pollen and nectar from early summer through to early autumn. Our Bees, Bugs and Butterflies Collection includes salvia for this reason.
Once flowers have faded in midsummer, the spent flower spikes can be removed to encourage a second flush of smaller flowers.
In late winter/early spring, last years spent plant material can be cut down to the ground ready for the new growth to emerge from the crown. For more information about how to cut back herbaceous perennials ready for the beginning of the growing season, click HERE.
Our range of Salvia nemorosa grown and propagated here at the Beth Chatto Gardens:
Salvia nemorosa 'Amethyst'- slender spires of pink-purple flowers appear from early summer through into autumn rising from clumps of aromatic, mid-green leaves. Stands 70cm tall with a spread of 40cm.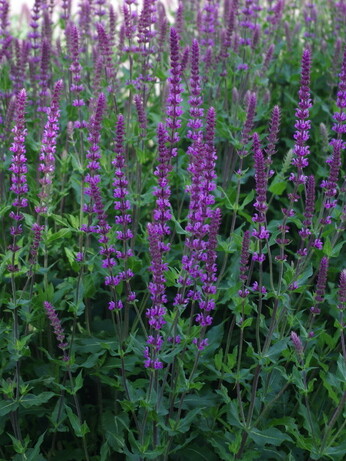 Salvia nemorosa 'Amethyst'
Salvia nemorosa 'Caradonna'- a superb new introduction with distinctly dark stained stems of violet blue flowers. Shorter growing and will repeat flower if cut down after first flowering. Plants reach 50cm height and 30cm wide.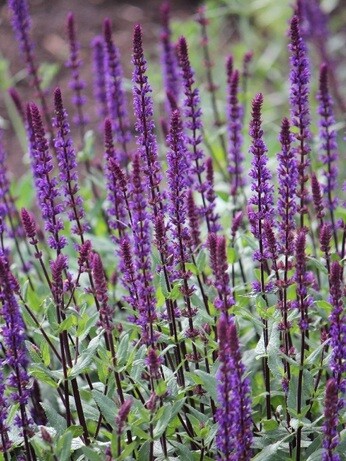 Salvia nemorosa 'Caradonna'
Salvia nemorosa 'Ostfriesland'- purplish stems covered with pink-purple bracts and violet flowers. A robust and long lived, lower growing, perennial. Reaches a height and spread of 50cm.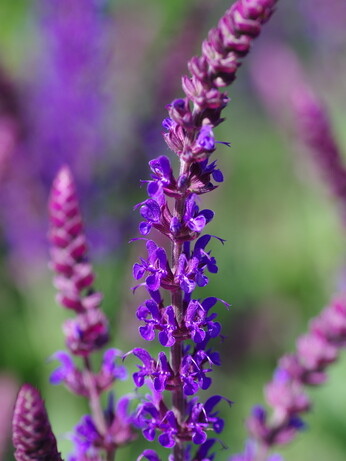 Salvia nemorosa 'Ostfriesland'
Salvia nemorosa 'Wesuwe'- selected form producing many spires of intense violet-purple flowers accented with dark red bracts creating interest for weeks. Plants grow to 60cm in height with a spread of 40cm.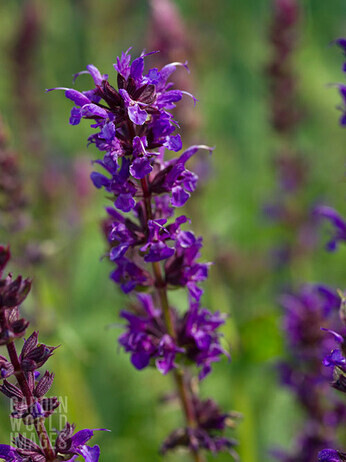 Salvia nemorosa 'Wesuwe'
Also meaning 'of woodland' is the closely related species S. x sylvestris which requires the same growing conditions and offers the same intense colours. Click here to find out more.