Why not get into the festive spirit by making a Christmas wreath, using evergreen foliage and berries from your own garden?
It's very easy: lay bundles of greenery on a wreath base, wrap wire around stems to secure, overlap the previous one to hide wire and continue until you reach starting point (see step-by-step photos below).
Raid your garden, or the hedge rows, for some greenery: conifers, box and holly are ideal. Personally I prefer using a mixture of 2-5 different types of foliage. Always cut more than you think you'll need – it's surprising how much you end up using.
For decoration use: conifer cones, rosehips, seed heads, berries, flowers (skimmia is particularly long lasting), twigs and perhaps bundles of cinnamon or dogwood sticks. Dried orange slices and hydrangea flowers are pretty but can go mouldy if the weather is wet.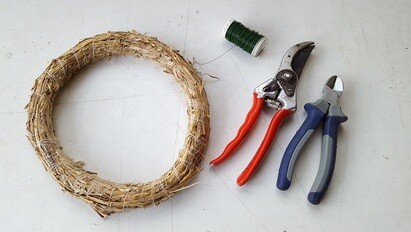 You'll also need:
a wreath base – ready made or make your own out of metal wire or flexible, bendy branches (willow being ideal). Remember, the thicker the base is, the more greenery you'll need to hide it.

a reel of florist wire

florist stubbing wire, or similar (for wiring pine cones, dried orange slices, berries etc)

wire cutters

secateurs
Prepare by cutting your materials to size (the bundles of greenery will need to be in proportion to the frame) and separate them into piles.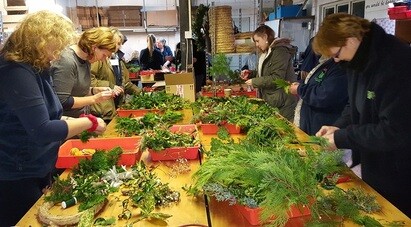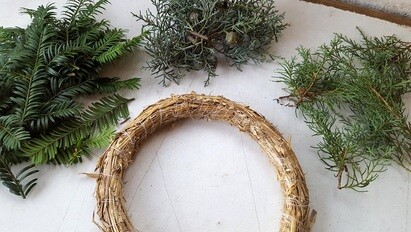 Start by securing the end of the florist wire to the frame. Wrap it around the frame four or five times, pull it tight and make sure it's secure. The wire remains uncut until you've gone full circle with the greenery.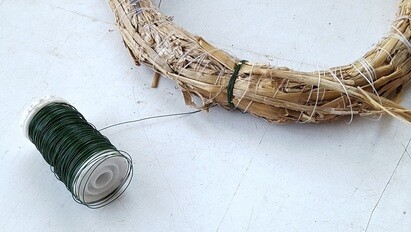 Lay the first fan-shaped bundle on top of the wreath base and secure by wrapping the wire around the bundle a couple of times, pulling it tight so it's firmly fixed into place.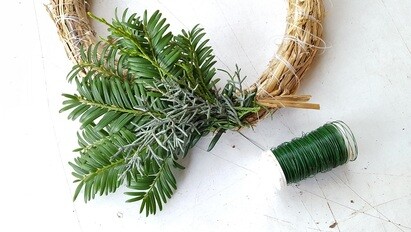 Keep the wire taut.
Continue laying bundles, securing them as you go along, working your way around the frame. Make sure the base is hidden. If you accidentally leave any gaps, these can easily be filled afterwards by adding a pine cone, berries or other decorations.
Make sure each bundle is overlapping the last one, to hide the wire.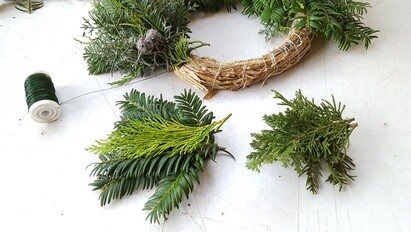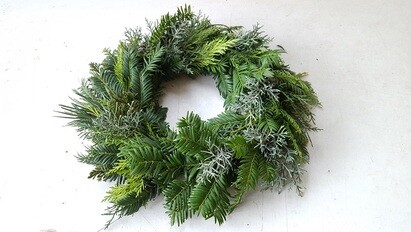 To finish, tuck the last bundle under the first and secure the wire by wrapping it round the wreath base several times, securing it before finally cutting the wire.
You can decorate the wreath afterwards by adding ribbon, wired pine cones, berries, dried orange slices and bundles of dogwood or cinnamon sticks.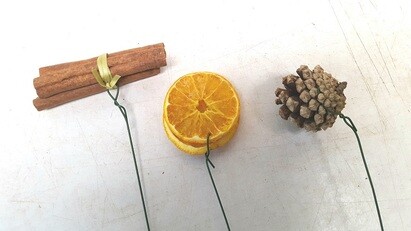 How to wire a cone:
Use a length of florists stubbing wire (or similar), create a hook and wrap it around the cone, slipping it between the open scales (tightly closed cones make concealing the wire more difficult). Twist the wire over itself to secure.
Once you've wired your decorations, and decided where you want to put them, simply push the wire through the wreath, pull tight and secure by pushing the end into the wreath base.
Now you have a beautiful wreath to hang on your front door. Use ribbon, or make a loop of wire, to attach your wreath to a hook.