The Platinum Jubilee will celebrate Queen Elizabeth's incredible 70 year reign. To mark the occasion, we wanted to share with you some of Beth's memories of the Queen and her visits to her show gardens at the Chelsea Flower Show, along with images of her other royal visitors.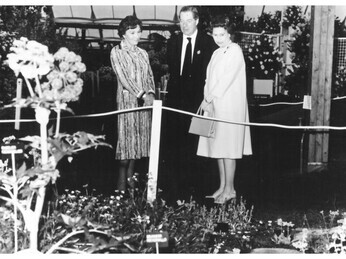 Beth with the Queen at the Chelsea Flower Show, 1979
'I wander around the widely varied exhibits with time and space to admire them and talk to old friends, also tranformed for this special evening. Suddenly there are little flurries of movement; photographers dash around like children playing hide and seek between the banks of flowers and you realise that the royal parties have begun to arrive. Conducted by important members of the Royal Horticultural Society Committee, several little groups make stately progress, often hidden from view until they suddenly appear beside you, while blackbirds and thrushes continue to trill never ceasing fanfares ahead of them. Hearts beat when we are presented to each of the Royal parties, but above all to the Queen. Hands are touched, I make a curtsey (I hope I remembered), some words are exchanged, and the moment has passed. I am left light-headed by the great sense of occasion, but when I feel the ground beneath my feet once more I am conscious of admiration and concern for our Queen, who finds something kind to say almost every day of her life to people she meets, concerning their many and varied activities.'
Beth Chatto- Beth Chatto's Garden Notebook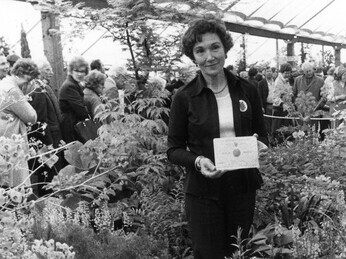 Beth's first gold medal, 1977
'The next day, before the medals were announced, Beth was introduced to the Queen, even more than usually the centre of attention in her Jubilee year. She showed interest in Alchemilla conjuncta, described by Beth as 'a charming little plant [whose] small exquisitely cut leaves are backed with shining silk which forms a silver edge on the top side'. This brought Beth a lot of interest, not just in Britain but across the world from Holland to Australia, after photographs of her meeting the Queen appeared in the press.'
Beth Chatto: A Life With Plants- Catherine Horwood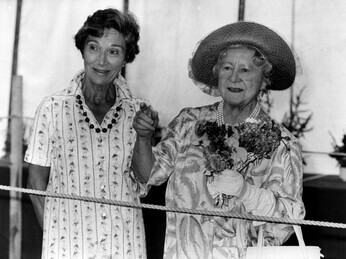 Beth with The Queen Mother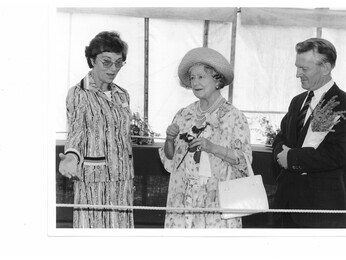 The Queen Mother 1985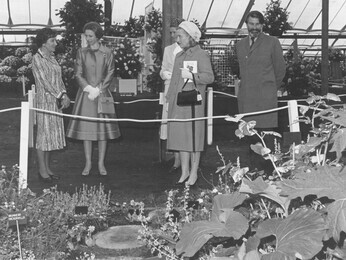 Beth with Princess Anne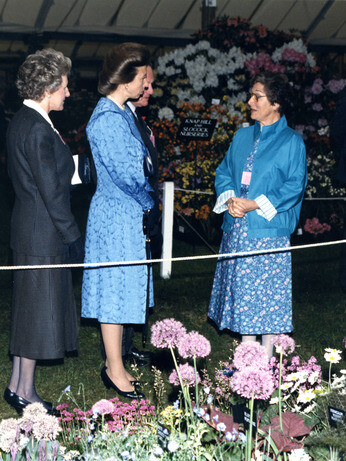 Princess Anne, 1987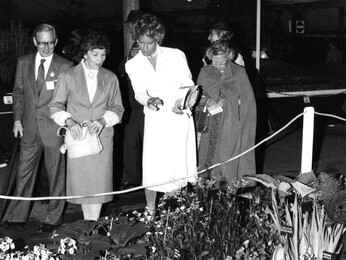 Beth with Princess Michael of Kent in 1984
We hope you enjoy the Platinum Jubilee celebrations!