Chelsea Flower Show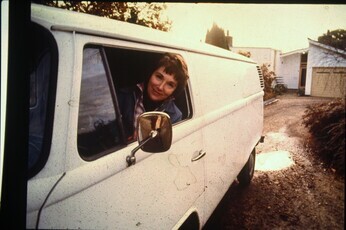 Setting off for the Chelsea Flower Show
This year's Chelsea Flower Show will run from Tuesday 24th May until Saturday 28th, returning to its traditional format following last years autumn show. The show brings together world-renowned garden designers and specialist nurseries and florists.
Garden designers have been encouraged to 'bring nature back' and 'embrace the wild', so expect to see naturalistic, wildlife friendly gardens bursting with native species.
In 1977, Beth began exhibiting at The Chelsea Flower Show, going on to win 10 consecutive gold medals, significantly increasing public interest in her nursery 'Unusual Plants' and her ecological approach to gardening. Beth's show gardens were unlike anything else at Chelsea at the time, showcasing many species plants presented in their natural habitats. Beth's use of native species, at a time when bedding plants and highly-bred flowers were the norm, raised a few eyebrows. One judge even wanted Beth disqualified, claiming all the plants were weeds!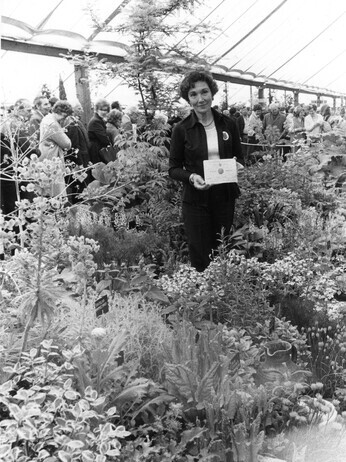 Beth in 1979 with her third Gold medal
Here's an extract, taken from the Garden Notebook, where Beth writes about preparations for the Chelsea Flower Show in 1988.
'Around us the marquee was filling as more and more exhibitors were arriving and quietly unpacking; everyone was totally absorbed in the final stages of this most important gardening event of the year. Whether hauling full-grown trees and shrubs or exotic orchids, there was the same degree of caring, concern, consultation and relief as the teams worked together and the designs took shape; everyone doing their damnedest out of love for their plants.'
Beth Chatto- Garden Notebook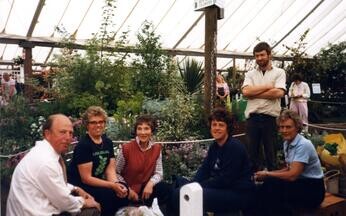 Beth and her team creating a show garden at Chelsea in 1986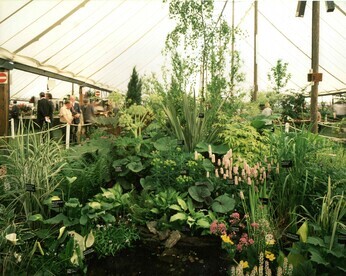 A garden created by Beth showcasing damp-loving plants
The Chelsea Flower Show is a great platform for showcasing leading garden design, new plants and more importantly, the perfect opportunity to discuss pressing subjects such as climate change, and how the horticultural world can help mitigate these effects through sustainable planting and water conservation, for example. Beth's time at Chelsea helped to influence people's plant choices with her ethos of 'right plant right place'.
Beth decided to stop doing Chelsea when she was at her peak - so that she could spend more time concentrating on her own Garden here in Essex. She went on to create both the woodland and iconic Gravel Garden where her skill as a plantswoman and artistic vision is clearly demonstrated.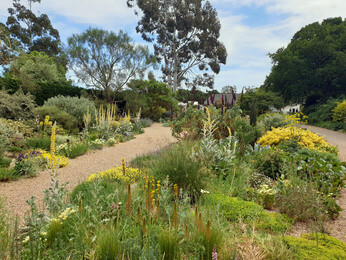 Beth's iconic Gravel Garden in May
Garden designer Dan Pearson writes about his memories of Beth at Chelsea and the influence she had on him and others. To read the full article, click here.
If you study Chelsea today, it is easy to overlook the influence she had on the industry of nurserymen and designers. The 'unusual plants' that were her palette are no longer so, and the way in which they were combined naturalistically on her stands has become the status quo. Rare now are the perfect bolts of upright lupins and highly-bred, colourful perennials, not so the mingled informality of plants that are closely allied to the native species, many of which had their origins at her nursery.
Dan Pearson- Garden Designer.