A month in the Garden and Propagation
Learning the Beth Chatto Way
May is the month of burgeoning green lushness, umbels froth over like a pan of boiling milk, the new acid green leaves of oaks punctuate azure cloudless skies. The increasing temperature and lengthening daylight accompanied by precious rainfall creates the perfect growing conditions; both in Beth's Garden and on the Nursery. May has been one of my favourite months thus far since starting in September 2020. My traineeship consists of a week in the garden with three in propagation, allowing me to observe and understand the plants we grow, both in the garden setting and as products available for sale. My learning focuses heavily on the varying methods in which they can be propagated via Beth's exacting methods passed down through the team members.
Following Beth's original methods the propagation team generates roughly 150,000 plants a year via cuttings, divisions and seed, either from nursery stock beds or the garden (treated as an enormous stock bed). The May schedule includes the pricking out many of the seedlings sown in January; putting them into single-cell plugs to encourage a strong root system and a larger bushier plant enabling another potting on into a 9cm/1ltr pot to grow on ready for sale. Taught directly by Emily (propagation manager and Beth's right-hand woman) I have been shown the Chatto way; using a chopstick to tease out a suitable seedling, making sure the roots are seated well into the plug by swirling into the hole in a circular motion, finally a firm shake and a good water in ensures all the plugs have no air pockets and the seedlings have firm contact with the soil. I have had the pleasure of handling a wide variety of seedlings from verbascums, lychnis to dodecatheon and aquilegia to name a few. All can look and behave differently but Beth's methods apply to all. These seedlings become young plug plants and await the next stage of potting and growing on.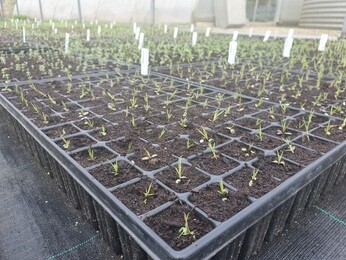 Trays of pricked out seedlings
Cuttings have also been integral during this month. Under Emily's direction, we collect cuttings early in the morning when the stems are more turgid; the cooler mornings reduce water loss and stress. Salvias taken from the stock beds are ready to be harvested, and stems of about 4cm long are selected. The cutting has a tip of leaves and bud furled together, with two to three pairs of leaves, a clean cut with a sharp knife is made just below a node (where the leaves originate), and the leaves are stripped from the stem which helps prevent rotting off. Beth chose to keep the tip of the cutting, many other horticultural practices suggest removing this, we reduce by no more than half of the leaves if they are large. Beth's way ensures that once rooted and growing, the cutting can be cropped a second time creating more material, ensuring more plants and in turn a healthier stock bed that is cropped less.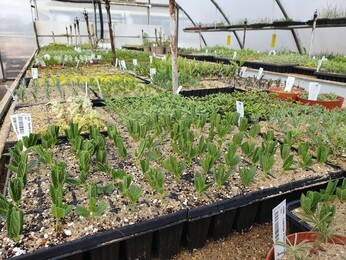 Cuttings in the propagation house.
Unlike many other nurseries, the team propagate from stock beds through division. This yields a duplicate of the parent plant which is genetically identical. This propagation technique ensures a quick way to accumulate plants in a more quality controlled way as opposed to seed which with some plants increases the risk of hybridisation. Anything that does not match the stock plant is immediately discarded, this system provides authenticity; much of the stock is from Beth's original planting and keeping generations of this stock is integral to the ethos of the gardens and nursery. The stock beds are comprised of both dry and damp areas to suit a variety of plants. These are monitored to note their characteristics such as height and spread etc. so that when displayed on the website a customer knows the plants behavior. The stock beds require regular maintenance to prevent hybridising between varieties, crowding out by weeds and checking for pest and diseases. Careful maintenance of stock levels is also important; over-cropping will stress and reduce the plant. A guide indicating the number needed has been created by Jake our nursery manager for the roughly 800 varieties guaranteeing next year's young plants. Divisions from the stock-beds this month have included Agapanthus, which when in early leaf, are dug from the ground along with a mass of tangled bird nest-like white roots and the crowns sliced with a sharp knife into pieces ensuring some root and shoots are intact. These are then potted up and set in the polytunnel where they will take 6-8 weeks to re-root and become available for sale.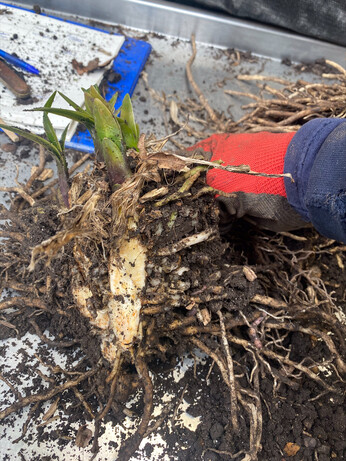 Dividing agapanthus
The garden hosts a variety of wildlife during May from nectar-laden drowsy buff tail bumblebees to the sparkling emerald of the green hairstreak butterfly. The ponds are central to much of the wildlife; mallard ducklings dabble in the shallower water while dragonflies and damselflies emerge on the waterside foliage. Beth was passionate about the ecology of the garden, understanding that a plant in the right setting creates a garden that supports vast webs of life such as soil bacteria through to insects, mammal and bird life. The garden incorporates different habitats from dry and arid to shady woodland and damp bogs, indulging Beth's love of plants and her plant choice for wildlife; she famously chose un-blousy plants and their cultivars, much closer to a species, knowing these would be more in keeping with the landscape around her and better for the creatures found there.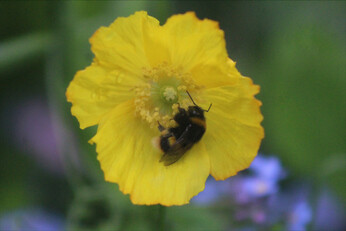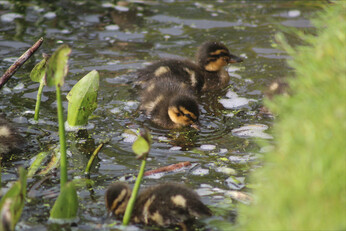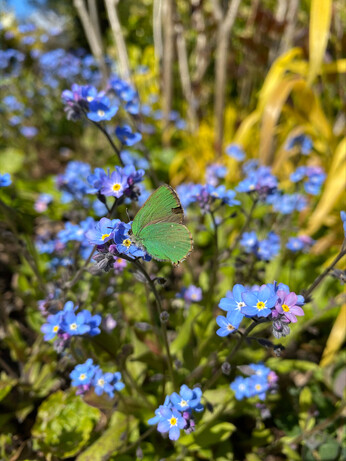 A Green Hairstreak butterfly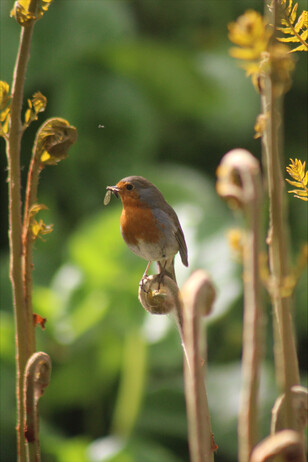 The traineeship with the Beth Chatto Gardens has been a wonderful learning experience within a team devoted to upholding Beth's ethos and methodology and equally generous with their knowledge and time. I have learned about an array of plants and the best way to propagate them, their maintenance and the conditions they require to thrive. Under the team's care I have thrived, much like Beth's Garden and hopefully have absorbed some of her wisdom and her skills. As May gives way to June, I am continuing my learning experience with awe and joy and look forward to being part of the seasonal cycle for several months to come.
Henrietta Huntley
Beth Chatto Trainee. 2020/2021