Welcome Guest ·
Login
/
Register
|
Your basket contains
0
items ·
» View Basket
Opening Times
1st March to End of October
Daily 9am to 5pm (Sun 10am to 5pm)
PLEASE NOTE WE ARE NO LONGER SENDING PLANTS BY MAIL ORDER UNTIL SEPTEMBER.
Discover The Beth Chatto Gardens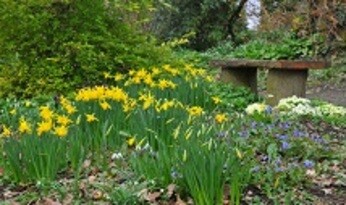 The Beth Chatto Gardens began in 1960. From an overgrown wasteland with poor gravel soil and boggy hollows, it has been transformed into an informal garden harmonising with the surrounding countryside. The gardens are an inspiration to anyone who visits them - the art of planting at its best.
Discover The Gravel Garden, The Water Gardens, The Scree Beds & The Woodland as you explore the gardens created by Beth Chatto.
Thursday, 04th April 2013
Let's hope that April will bring us a change in the weather. The coldest March in half a century kept the snowdrop display goi...
» Continue Reading