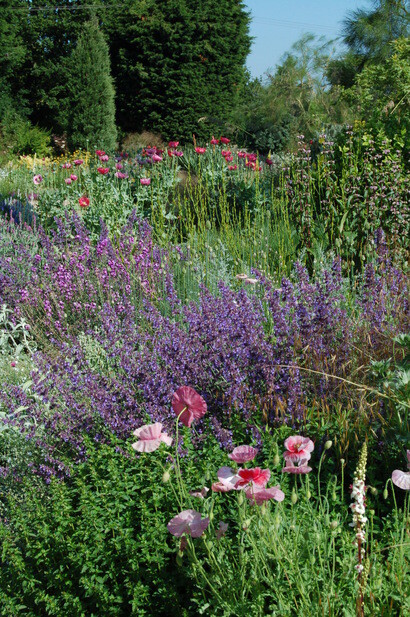 We have used the plants from these lists in making the Gravel Garden. Many small and low-growing plants for hot, dry conditions can easily be overgrown, so Beth Chatto has designed a Scree Garden for them, a series of slightly raised beds over the same gravel sub soil as we have in the Gravel Garden. In these beds are used the smaller plants below.
The Beth Chatto Drought-Resistant collection - buy plants carefully selected by Beth and her team. The collection comes with a comprehensive planting plan and seasonal updates.

The following lists contain plants, which in our experience stand long periods of drought and full sun without dying. Most require well-drained soil; they will not survive being waterlogged in winter. Plants destined for very poor sand or gravel soils will be grateful for additional humus, either when planting or as a mulch. An additional mulch of weed-free material overall will help prevent excessive evaporation and suppress weed seedlings. In good garden soil all these plants will flourish like weeds. All tolerate lime.
Click each plant name for more information.
Freesia laxa
Arabis
Belamcanda
Draba aizoides
Gladiolus tristis
Iris unguicularis
Santolina chamaecyparissus Nana
Sideritis
Grasses to use with some of the plants listed above:
Medium to large plants for hot, dry conditions:
Bupleurum falcatum
Centaurea
Centranthus
Cestrum
Cichorium
Cistus
Commelina
Convolvulus cneorum
Crambe
Crinum
Crocosmia
Cynara
Dictamnus
Dierama
Echinops
Eryngium
Euphorbia characias subsp. Wulfenii
Euphorbia corallioides
Euphorbia polychroma
Euphorbia p. "Major"
Ferula communis
Foeniculum
Gaura
Gladiolus papilo
Glaucium
Grindelia
Gypsophilia "Flamingo"
X Halimiocistus
Hermodactylus
Iris (bearded forms)
Lavandula
Libertia grandiflora
Linaria
Linum
Lychnis coronaria
Nectaroscordum sicilum subsp. Bulgaricum
Nepeta "Dawn to Dusk"
Nepeta nuda
Nepeta sibirica
Nepeta "Six Hills Giant"
Onopordum
Othonna
Parahebe perfoliata
Penstemon
Perovskia
Phlomis
Salvia
Santolina
Sedum
Senecio
Stachys
Verbascum
Grasses to use with some of the plants listed above:
Ampelodesmos mauritanica
Eragrostis curvula
Helictotrichon
Leymus arenarius
Melica altissima
Oryzopsis miliacea
Poa labillardierei
Stipa