Planning a visit
to The Beth Chatto Gardens
Planning a visit to our
internationally renowned
Gardens & Nursery
For access to the Gardens
Facemasks must be worn when entering the Visitor Information Centre at the entrance to the Gardens
You need to book a ticket; please book your arrival time slot here
Adult Entry: £8.95 + 50p booking fee
Children (Under 16s, over 5s): £2 each + 50p booking fee
For access to the Nursery only
No booking necessary. Face masks must be worn in the gift shop area when paying for plants.
Please be aware that we are required to monitor the amount of people on the nursery, and that access may be restricted with a queing system in very busy periods.
For 'Friends of the Garden'
No booking necessary - You are FREE to visit any time during opening hours
Please ensure you have your membership details with you when you visit
For NHS Staff, Key Workers and Blue Card Holders
Book your FREE* ticket to visit from 1pm only – Tuesday to Friday inclusive (from 1st September 2020).
To validate your FREE Entry, please bring along with you:-
A copy of your FREE ticket, which you will need to scan in our Visitor Information Centre
A copy of your NHS ID CARD, Key Worker ID or Blue Card ID which you will need to show to a member of our Welcome Team in the Visitor Information Centre
More information about the blue light scheme: www.bluelightcard.co.uk
For Gardeners World '2 for 1' entry
Simply book one adult ticket and present this along with your Gardeners World voucher at the Garden Entrance to claim free access for a second person.
FREE access to the gardens between 7th September 2020 to 14th November, and 9th February to 30th April 2021
Please Note: We are closed from 15th November 2020 to Tuesday 9th February 2021
For RHS members
FREE access to the gardens between 1st October 2020 and 14th November, and 9th February to 31st March 2021
Please Note: We are closed from 15th November 2020 to Tuesday 9th February 2021
For ALL Pre-booked Ticket Holders
Please remember to bring your ticket with you (either on your phone or a printed copy – so that the barcode can be scanned)
For the safety and wellbeing of Visitors and Staff, we sadly we won't be able to admit anyone to the Gardens, who arrives without a pre-booked Garden ticket.
Please note due to social distancing measures in place, we are restricting and monitoring the number of visitors on site.
Opening hours
Tuesday to Saturday, inclusive, from 10 am to 5 pm (please note the Gardens are closed to new admissions after 4 pm).
FOR THE REMAINDER OF 2020 WE ARE CLOSED SUNDAY AND MONDAY.
Card Transactions only, no cash
We are restricting purchases to card transactions only.
Our own gift vouchers can be used on-site, but not online or to buy a pre-booked ticket for the Garden
Assistance dogs only
We recommend leaving dogs at home as our car park is very open with no shaded areas.
Avoid queues with 'Click & Collect' or 'Home-Delivery'
You may know that we have been sending out our much-loved quality plants all over the UK during this time, and continue to do so. If you are unable or feel uncomfortable about paying us a visit, you may wish to order online and choose either 'Home-Delivery' or 'Click and Collect'.
Covid19 response
Our foremost priority remains the well-being of all of our Visitors and Staff and we will do everything possible to ensure all Government social distancing measures are followed.
The Social Distancing measures on-site include:
Facemasks must be worn in any enclosed areas including the Visitor Centre and the Giftshop
Limited numbers of pre-booked tickets available for each day
Ground & floor markings to encourage social distancing where we anticipate some queueing at the entrances to both the Gardens and Nursery
One-way system or restricted access around some areas of the Gardens and the Nursery
Monitoring access to the Nursery. During busy periods, visitors may be asked to form a socially distanced queue which we will closely monitor, allowing controlled entrance to the Nursery, when numbers permit.
Screens at the Welcome desks and Checkouts to protect both Visitors & Staff
Personal Comfort and Wellbeing
We are now monitoring the Nursery, and staff will step in and ask people to queue if the Nursery looks overcrowded
Customer toilets are open for use. Please wear a mask in this area, be mindful and exercise social distancing.
Hand sanitiser and handwashing facilities are available for Visitor & Staff use on-site
If you are feeling at all unwell or you or someone close to you is showing any symptoms please self-isolate and do not come to the gardens.
Shared Best Practice, Advice and Guidance
In order to comply with the Governments advice on social distancing, we have calculated the number of visitors we can welcome from the Horticultural Trade Association Guidelines. Thanks to the generosity of the RHS, in sharing best practice with their partner gardens (of which we are one) we are also following measures adopted by the RHS at their gardens which opened on 1st June 2020.
We fully support the Government's plans to control the spread of the virus and if official guidance changes, we will adjust practices immediately.
FAQ's
How long can I stay?
You can arrive at any time within your given time slot and are free to stay as long as you wish – although please be mindful of others' enjoyment.
Can I get plant advice at the Nursery?
We will be respecting social distancing measures and so advice based on phone pictures of plants sadly won't be possible at this time.
Will there be any refreshments available?
Our Tearoom remains closed for the time being. Teas, coffee and cold drinks are available from the Giftshop and Visitor Centre, as are our delicious, locally made ice creams.
Picnic benches are sited in the adjacent field near the overspill car park for our visitors to use; all we ask is that you take any litter away with you to help protect our environment.
Is free car parking available?
Yes.
Do you have car parking for the disabled?
Yes, we have a limited number of Car Park spaces designated for those less abled. Please make us aware of your Blue Badge at the time of your booking.
Are customer toilets open?
Yes, customer toilets are available on site. Our toilets are regularly cleaned and monitored. Please be aware that you may need to queue in this area.
Will you accept cash?
No, sorry, we will only be accepting card payments for any purchases you wish to make during your visit.
Opening Times
Tuesday to Saturday 10 am - 5 pm ( No new admissions to the Garden after 4 pm )
We are closed on Sunday and Monday
Admission 2020
Garden admission must be booked in advance, (except for Friends of the Garden); all tickets are subject to a 50p booking fee to cover extra admin costs.
April - October
£8.95 per adult
£2.00 per child (5 - 16 yr old) Under 5's free.
February
£4.95 per adult
£1.00 per child (5 - 16 yr old) Under 5's free
March & November
£6.95 per adult
£1.50 per child (5 - 16 yr old) Under 5's free
1 carer goes free with a disabled badge holder.
Sorry, no other concessions.
Membership
A Friend of the Garden membership (from just £25) allows you unlimited access to the Gardens during opening hours and free entry for up to 3 children.
Car parking is FREE for blue badge holders.
Coach Parking – Booking required in advance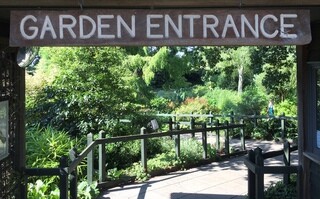 Opening Hours
March-October
10am to 5pm
(Sunday and Monday Closed)
Tearoom Opening Hours
March-October
Currently closed
(Sunday Currently closed)
How to find us
Elmstead Market, Colchester, Essex, CO7 7DB
By Bus
Colchester Bus Station is to the east of Colchester in Osborne Street and Stanwell Street. From the High Street turn right down Queen Street opposite Colchester Castle, then bear right at the bottom of Queen Street into Osborne Street. The bus station is on the left.

There are a number of travel companies operating buses that stop at Elmstead Market so we recommend checking the 'Bus Times' website before travelling. Please see the links below for each service:
By Train
Colchester has two train stations, North Station and Colchester Town. Colchester Town station is in the centre of town and near the bus station. North Station is over a mile north of the town centre and would require another bus to reach the town centre but does have a taxi rank just outside if you would prefer to continue your journey by car. Regular trains to North Station run from London Liverpool Street, Ipswich, Clacton on Sea and Norwich. Trains to Colchester Town are less frequent and may require you to change at North Station. Journey time to Colchester Town from London Liverpool Street is approximately 90 minutes.
By Bike
Why not pop in by bike, and enjoy a snack in our Tea Rooms. The Beth Chatto Gardens can be reached from several bicycles routes. The closest is a route published by Visit Essex and can be viewed here. Route 4 "Cultural Sites and Constable Country" is the map that has our location. The route takes you around some of the countryside encircling Colchester and is roughly ten miles long. We can be found in the bottom right hand side of the map marked as attraction 14. If you would like to hire a bike for your visit to the area, whether you are a resident or a holiday maker, bikes can be hired from The Outdoor Hire Centre including tandems, childrens bikes and bikes with picnic equipment!
By Taxi
There is a taxi rank outside North Station (please note not outside Colchester Town station) and one on Colchester High Street. Local taxi companies include:
Five Sevens: 01206 577777

Hawaii 5-0: 01206 543210

Panther Cabs: 01206 525525
Please note we do not endorse these companies and cannot guarantee their cost or level of service. For your return journey staff in the shop will be happy to call a taxi company for you.