Would you like to volunteer at the renowned Beth Chatto Gardens?
The Beth Chatto volunteer program aims to provide an enjoyable and educational environment to all volunteers. To be part of the team, help drive the inspirational Beth Chatto Gardens forward and to develop as an individual.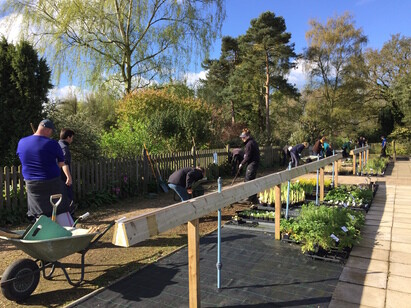 This is something that Beth has been keen to encourage and we have been working on finding a way to make it a possibility. If you would like to volunteer, whether it be working with the nursery team. gardeners or the estate team. Giving guided tours, helping in the tearoom or the office, please email us at volunteer@bethchatto.co.uk for further information.

We have regular events with staff and volunteers. This lovely March evening, Beth came out to join us for an stroll around the gravel garden, before we adjourned to watch video clips of the gardens developing from its early humble beginnings, all whilst enjoying some tasty pizza!