Our popular Beth Chatto Gift Vouchers are wonderful gifts to give to friends and family. They are valid from a year of issue date, and can be spent in all areas of the Gardens including garden entry, the Nursery, Gift Shop and our highly acclaimed Tearoom.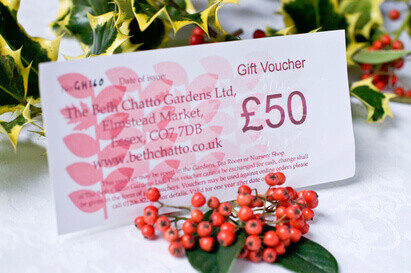 They can also be used for online purposes: if you'd like to use your gift voucher online you will need the code on the receipt that was issued when the voucher was purchased, in the event of a query please email office@bethchatto.co.uk.
Gift vouchers can't be exchanged for cash and change shall be given in the form of lower denomination gift vouchers.