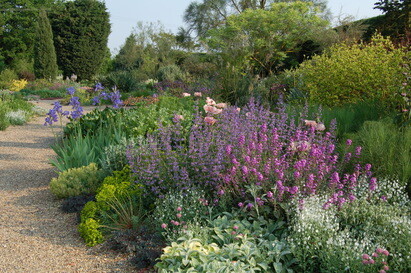 Allium, white and purple honesty, perennial wallflowers, lime green Euphorbia and blue spires of Camassia greet visitors to the Gravel Garden this month. Thick Nectaroscordum stems carry pointed buds in thin papery cases, which split open to release clusters of creamy-green or purple-flushed nodding bells.
Trollius (Globe flower), marsh marigolds, Euphorbia palustris and the pink pokers of Persicaria bistorta 'Superba' provide colour among the fresh foliage of Hosta, Rodgersia and Gunnera. The tall, naked stems of Darmera peltata carry flat heads of pale pink flowers. Viburnum plicatum (growing next to one of the ponds) with its distinctly layered, tiered branches, is covered in white blossom. The bare branches of the two Judas trees (Cercis siliquastrum) - one in the Reservoir Garden and one in the Scree Garden - are covered in pink blossom. Purple tinted seedpods will follow in midsummer.
The Woodland Garden (and the Long Shady Walk)
Often mistaken for a Euphorbia, the lime-green flowers of the biennial Smyrnium perfoliatum might catch your eye, as might the pleated leaves of Veratrum and the red new shoots and leaves of Persicaria 'Red Dragon'.
The 'Chelsea Chop'
A method used on plants that otherwise would require staking. Suitable plants:
Aster, Helenium, Helianthus, Phlox (border forms) and Rudbeckia.
When:
Usually mid to late May (around the time of the Chelsea Flower Show, hence the name).
How:
Using shears, the plants are cut back by about half and shaped slightly, cutting the sides slightly shorter than the middle. The result is a sturdier and more compact plant, which will produce smaller individual flowers but in greater abundance, albeit a few weeks later than usual.
Taller forms of Sedum (S. 'Autumn Joy', 'Matrona', 'Karfunkelstein and 'Purple Emperor' to name a few) will also benefit from a slightly gentler version of the Chelsea Chop, preventing them from growing too tall and straggly. Pinching out (removing) the tips when the plants are 10-15cm high encourages the plants to branch out and become much more sturdy.