The Gravel Garden
The mild winter and warm spring has brought everything into flower a couple of weeks earlier than usual. Allium, Iris, oriental poppies and the bright red Tulipa sprengeri have been the star performers during the second part of May, but will hopefully continue to put on a great show during early June. Carpets of thyme and soft, silvery lamb's ear, weave through mounds of lavender, wallflowers, Cistus, Phlomis, catmint and sage. Phlomis tuberosa 'Amazone', with it's purple stems, carries whorls of soft lilac flowers and makes a good vertical accent, as do the bright magenta flowers of Gladiolus communis subsp. byzantinus. Annual poppies, love-in-the-mist and the creamy Californian poppy are allowed to self seed, as they are easy to thin out or remove if they appear in the wrong place. Omphalodes linifolia, with its glaucous leaves and small white flowers, is another very useful and pretty "filler". Self sown or scattered, it quickly fills any empty gaps. The agaves have now been planted out, after having spent the winter inside a frost-free green house.
The Water Garden
Gunnera, Hosta, Darmera and Miscanthus provide lush foliage around the ponds, while Astilbe, Iris, Euphorbia, Filipendula, Hemerocallis and Primula add bursts of colour. Below Beth's house, the pineapple broom, Cytisus battandieri makes a strong feature, with its silver-green, laburnum-like foliage and cone-shaped clusters of yellow, pineapple-scented flowers. Don't forget to look up as you walk past the Liriodendron tulipifera (tulip tree) at the far corner of the Water Garden - see if you can spot its green and orange tulip-like flowers.
The Woodland Garden
Climbing Hydrangea reach for the sky; Philadelphus (Mock Orange) send out their strong fragrance from cup-shaped white flowers; architectural Veratrum send up candelabras of small star-shaped, greenish- white flowers, while the Turk's cap lily produces small, nodding, purplish-pink flowers. Doronicum pardalianches (Great Leopard's Bane) creates a pretty glade of yellow daisies, but can be invasive.
In the Scree Garden Beth's collection of succulents is on display.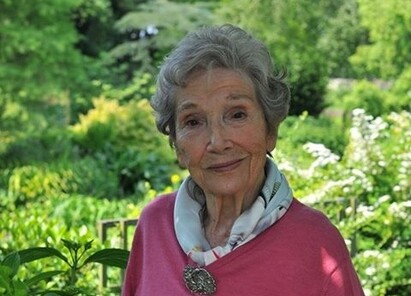 A big Happy Birthday to Beth, who is celebrating her 91st birthday later this month.
Events
Basic Propagation- Saturday 7th June 2014, 10.30am- 3.30pm. A day of seed sowing, cutting and division. Learn how to harvest and sow seeds for best germination rates, when and how to take softwood, semi-ripe, hardwood and root cuttings and when and how to lift and divide perennials. £49 or £46 for Goldcard holders.
Creative Writing- Wednesday 11th June 2014, 6pm-8.30pm. Come and explore this exciting journey in the glorious Beth Chatto Gardens. You will be guided through a series of writing exercises and will also get to experience the of the gardens when it is closed to visitors. If you have written creatively before or just would like to try, this workshop will be perfect for you. £18 or £15 for Goldcard Holders.
An Evening at the Gardens in aid of the RNLI- Saturday 21st June 2014, 6-9pm. Take this rare opportunity to enjoy the tranquility of the gardens in an evening for the benefit of the RNLI. Be greeted with a drink on arrival then take some time to stroll around the gardens and then join a guided tour of the Gravel Garden or get the chance to browse the nursery away from the crowds. Enjoy a memorable evening while supporting an amazing charity that saves lives at sea every year.Tickets are £10 and can be purchased in the Nursery shop, by calling us on 01206 822007 or by visiting the RNLI shop, Hastings avenue, Clacton.
For information, tickets and availability please call us on 01206 822007 or email friends@bethchatto.co.uk.