On a beautiful, crisp and unseasonably warm day last week, I found myself pleasantly surprised by the humming and intense activity of many bees on the nursery and it got me thinking more about these important members of our nursery ecosystem.
According to The Woodland Trust, we have approximately 250 species of bee here in the UK; this large family includes bumblebees, mason bees and mining bees (of which 24 belong to the bumblebee species alone and only one is the true, wild honeybee). They employ a variety of strategies to overwinter, either in the adult form or as larvae, hopefully cocooned against whatever our winter weather throws at them, which will certainly have been challenging for them at the beginning of this year.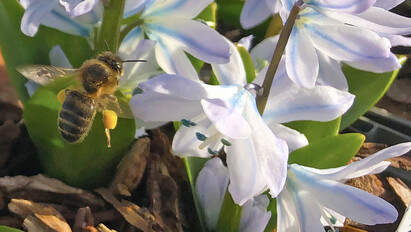 February: a honey bee visits Scilla mischtschenkoana on the nursery
Of course, most bees should have been hibernating, although some early risers do break their hibernation in early February.
One of the early emergers that takes refuge in our garden is the curiously named "Hairy-footed flower-bee" that just loves plants from the Lamiaceae and Boraginaceae families, such as dead-nettles, forget-me-nots, comfrey and pulmonarias.
However, with climate change, they are starting occasionally to appear in midwinter. All gardens have such an important role to play in their survival as the only 'natural' food source in the countryside at this time of year is gorse.
With the very recent, rapidly rising temperature, our bees are emerging looking for that all-important early-season nectar.
Which are the most bee-friendly plants?
One of the questions that we are frequently asked on the nursery is "which are the most bee-friendly plants?" and we find that the best way to answer is to follow the bees themselves and observe where they are feeding. As, sadly, visitors cannot be here at the moment to do this, I thought that I would let you know the top 5 plants that they've been making a beeline for.
Sarcococca confusa (sweet box) - this is a delightful, compact, evergreen shrub with small, elliptical, glossy leaves with wavy edges. It is perfect for a pot in a shady spot - with their tubular white flowers, "tiny tassels tucked into every axial along the length of every twig" and a heady perfume, they are a magnet for bees and humans alike.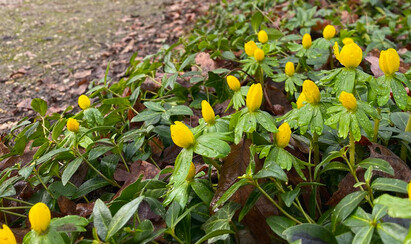 Eranthis hyemalis (winter aconite) - Beth writes "a sight to chase away the winter blues: sheets of yellow aconites, one of the first flowers to welcome another year into the garden". Their bright, cheery, yellow flowers surrounded by a ruff of frilly, green leaf bracts appearing in January. Hence the species name given to them - hyemalis meaning winter flowering in Latin. They make happy companions for snowdrops and will gently spread around the base of deciduous shrubs - underplant the coloured stem dogwoods such as Cornus alba 'Kesselringii' or Cornus sanguinea 'Midwinter Fire' with them - a treat for the eyes. We sell these little tuberous plants "in the green" and after flowering, they disappear quietly under the ground until they magically appear again next year.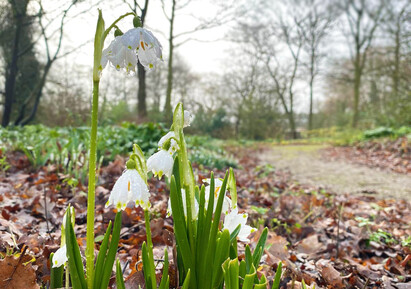 Galanthus (snowdrops) - this is another great energy source for the bees and a passion of our Garden Director, Dave Ward, being a self-confessed galanthophile himself. You are spoilt for choice with these, being freshly dug and sold "in the green". Including Galanthus 'James Backhouse', one of the best early flowering snowdrops in our opinion, with its distinctive long flowers - an easy and vigorous cultivar to grow.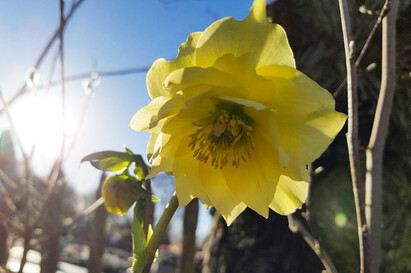 Helleborus (hellebores) - with their beautiful, open flowers, which make easy landing platforms for the bees "all are seductive with subdued shades and degrees of speckling". Always try to choose the single flowering ones as the nectar and pollen is much more accessible to pollinators. To add to this, we have Harvington Hellebores in a variety of different colours to tempt you too. And don't forget our native, stinking hellebore, Helleborus foetidus, with its clusters of pale green bells edged with maroon.

Spring bulbs - these are perfect for boosting that much needed, early nectar supply for bees and other pollinators.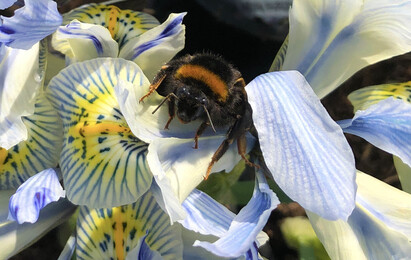 A bumble bee revives itself with nectar from Iris 'Katharine Hodgkin' (reticulata) in February
Don't worry if you forgot to plant them in the autumn, we have done that for you and have some ready-planted bulbs, including the very early Iris 'Katharine Hodgkin' (reticulata) and Scilla mischtschenkoana with its pale blue flowers. The bees absolutely love this plant and even in February, are busy visiting.
The later-flowering, delicately scented pheasant's eye daffodil, Narcissus poeticus var. recurvus (a favourite of Emily, our propagation manager) with slightly, recurved white tepals and a small yellow cupped centre with a red-rim; the summer snowflake, Leucojum aestivum 'Gravetye Beauty', a strong growing, upright variety with large white bells and which despite its name, reliably flowers from March to April (and is now beginning to flower on our nursery) and the much later-flowering native, snakeshead fritillary, Fritillaria meleagris with its strangely exotic chequered petals.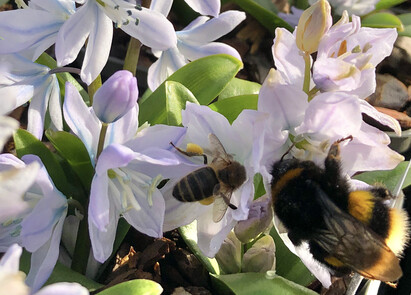 February: a bumble and a solitary bee share Scilla mischtschenkoana
Flowers have co-evolved with animal pollinators over the millennia of time and bees have become one of the most perfect and beautifully adapted of organisms.
However, as a sting in the tail, they are under threat for a variety of reasons that are mostly caused by humans. Losing bees from our tangled and complex ecosystem would have devastating and drastic consequences.
But we can so easily and enjoyably help them in this ever-changing and challenging world by simply planting some more bee-friendly plants - so if you are going to do some new planting this spring, spare a thought for the bees (and all pollinators) and let's increase the buzz.