Create Account / Login
·
Track Your Order
|
Your basket contains
0
items ·
» View Basket
About The Beth Chatto Gardens
About us
The Beth Chatto Gardens began in 1960. From an overgrown wasteland of brambles, parched gravel and boggy ditches it has been transformed using plants adapted by nature to thrive in different conditions, an inspirational, informal garden has developed.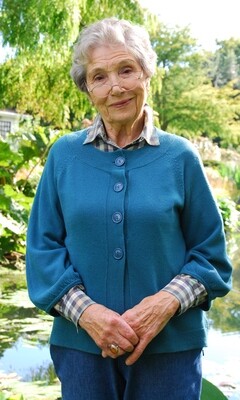 The accompanying plant nursery stocks over 2000 plants, all sold by growing conditions. While the light and airy tearoom allow visitors to relax and take in their surroundings over a homemade cake.
The tearoom is also the venue for events and workshops. Held all year round they cover a large range of interests from gardening lectures, painting workshops and craft fairs.


About Beth Chatto
Beth Chatto was born in 1923 to enthusiastic gardening parents. After working as a teacher she married the late Andrew Chatto in 1943. His life long interest in the origins of plants influenced the development of the Gardens and our use of plants to this day.
Following Andrew's retirement, in 1960 the Chatto family built their new home on a wasteland that had been part of the Chatto fruit farm. The site presented many difficulties for starting a garden including low annual rainfall. It was to Andrew's plant research that they turned.
Informed by his knowledge Beth selected plants for a series of Gardens that could thrive under the different conditions. Through gifts of seeds and cuttings a large collection of unusual plants and a good knowledge of propagation was acquired. Since the late fifties Beth Chatto had become involved in the Flower Club movement, lecturing, opening new clubs and demonstrating flower arranging. By 1967 the Flower Club members were an enthusiastic audience for unusual plants. Requests for catalogues followed and from a small hand typed sheet a mail order business and plant nursery was born.
In January 1975 "Unusual Plants" exhibited at the RHS Hall, Westminster, winning a Silver Medal and gaining the first press coverage. From 1977 Beth Chatto and her stand of "Unusual Plants" went on to win ten consecutive Gold Medals at RHS Chelsea. Beth Chatto's first book, The Dry Garden, was published in 1978. Since then she has gone on to publish eight books, has lectured around the world and written articles for magazines, newspapers and the Internet. Beth Chatto still works every day in The Beth Chatto Gardens, guiding her staff and sharing her deep love and profound knowledge of planting.

1923
Born Good Easter, Essex
1960
The Beth Chatto Gardens begins.
1967
The Beth Chatto Gardens nursery begins.
1977-1987
Awarded by the Royal Horticultural Society Ten Gold Medals for ten consecutive exhibits at Chelsea Flower Show.
1978
The Dry Garden is published.
1982
The Damp Garden is published.
1983
Beth Chatto participates in lecture tour of America
1984
Beth Chatto participates in lecture tour of British Columbia, Canada and North West States of America.
1985
Plant Portraits is published.
1986
Beth Chatto lectures in America.
1987
Awarded the Lawrence Memorial Medal,
Awarded the Victoria Medal of Honour,
Awarded Honorary Degree by the University of Essex.
Beth Chatto participates in lecture tours of Holland and Germany.
1988
The Beth Chatto Garden Notebook is published.
1989
Beth Chatto lectures in Canada and Australia.
The Green Tapestry is published.
1990
Beth Chatto lectures in Paris.
1995
Selected to the International Professional and Business Women's Hall of Fame for outstanding achievements in introducing plant ecology to garden design.
1998
Presented with the Lifetime Achievement Award by the Garden Writer's Guild.
Dear Friend and Gardener is published with Christopher Lloyd.
2000
Beth Chatto's Gravel Garden is published.
2002
Awarded the OBE in the Queen's Birthday honours. Beth Chatto's Woodland Garden is published.
2004
The Damp Garden (new edition) is published.
2008
Retrospective exhibition on career of Beth Chatto held at The Garden Museum, London.
2009
Awarded honorary doctorate from Anglia Ruskin University.
2010
The Beth Chatto Gardens celebrates fifty years.
2011
Named a Paul Harris Fellow by Colchester Trinity Rotary Club.
2014
Awarded the Society of Garden Design's John Brookes Lifetime Achievement Award.